Lenovo's CES lineup: Flexible laptops, dirt-cheap tablets, and PCs that read your face
Tablets and laptops and all-in-ones, oh my!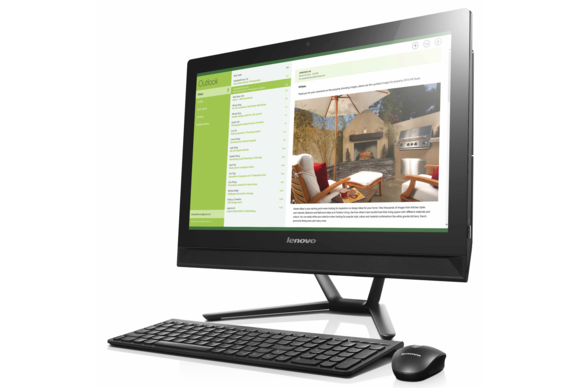 In addition to claiming a record for the "World's most lightweight laptop," Lenovo is unveiling all sorts of other, less record-worthy (but still interesting) devices at CES 2015, from cheap Android tablets to flexible laptops and PCs that can read your facial expressions.
You get a tablet! And you get a tablet!
First up is Lenovo's new A-Series tablets, which Lenovo branded with the cringe-worthy (or journalist-worthy) pun "'A' Smart Choice for First Time Tablet Buyers." The "A" apparently stands for Affordable. Or Android. Or it's a meaningless product designation. Who knows?
Regardless, the new TAB 2 A7-10 and A7-30 are cheap Android tablets, running Android 4.4 until an unspecified date this spring when 5.0 Lollipop will drop in an over-the-air update. The A7-10 features eight hours of battery life, 8GB of internal storage, a MicroSD slot allowing for 32GB additional storage, a seven-inch display with 1024x600 resolution (ugh), and a 1.3GHz processor.
The A7-30 is basically the same device, except with optional 3G for voice calling purposes. You know, just in case you didn't think holding the Nexus 6's massive screen to your face made you look dumb enough.
The tablets ship between January and March of 2015 and start at $99, making them true budget devices. On the other hand, Amazon's six-inch Kindle Fire HD 6 is the same price with a higher 1280x800 resolution, and the seven-inch Kindle Fire HD isn't that far off at $140--though Fire tablets lock you into Amazon's ecosystem rather than the wide world of Android.
Touch your toes
Lenovo's FLEX line of touch-enabled laptops just keeps getting more flexible. Last year's Flex 2 featured a hinge that could bend 300 degrees. You could use it as a normal laptop or bend it so the keyboard laid flat on the table, acting as a stand for the touchscreen.
This year's Flex 3 hinge did some stretches and limbered up, meaning it can now bend the full 360 degrees. You can still use it as a laptop, or bend the keyboard all the way back and use it as an impromptu (and bulky) tablet.
The Flex 3 comes in 11-, 14-, and 15-inch models, with 8GB of RAM and a terabyte of storage. The 11-inch model is saddled with a diminutive Pentium processor and a 1366x768 screen, while the 14- and 15-inch Flex 3s get full Core i5/i7 chips and an optional 1920x1080 resolution.

You can also bend the Flex 3 into all these crazy shapes.