Lenovo Yoga 2 11: A small laptop with tablet potential
Lenovo made a lot of compromises to hit this price poing, and did little to advance the hybrid concept. Still, the Yoga 2 11 has a good price-to-performance ratio.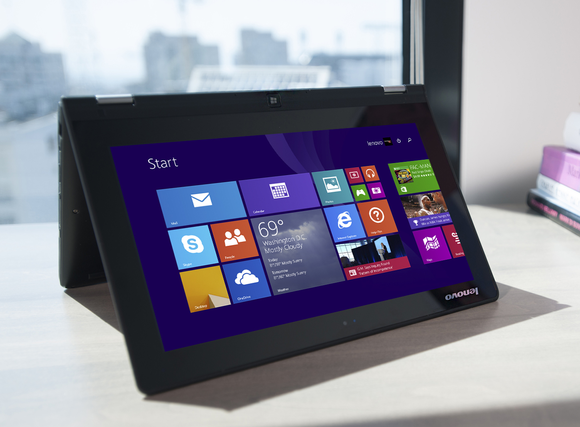 Lenovo's Yoga product line has inspired many an imitator. Dell, HP, Toshiba, and other PC manufacturers have all jumped into the 360-degree-hinge game. No matter the display size, each of these laptop/tablet hybrids has one thing in common with the Yoga 2 11: They all make chunky tablets.
The Yoga 2 11 is a thin-and-light laptop first and foremost. But as you bend its 11.6-inch display back, you can turn it around and stand it up like a tent, puts its keyboard upside down on your desk and use it in stand mode, or fold the display all the way against the back of its keyboard and use it like tablet.
When I reviewed the Dell Venue 11 Pro, I felt as though I'd finally found a tablet that could replace my daily-driver laptop (an 11-inch Asus VivoBook X202). When I used the Dell, I found I almost always left it plugged into its optional keyboard dock.
As I set out to test the Yoga 2 11, I wondered if it would work the other way: As a laptop that could replace my iPad. I thought a machine designed primarily as a laptop would be even more practical. The price is certainly right: You'll find the Yoga 2 11 selling at Best Buy for the attractively low price of $499.
As a laptop, the Yoga 2 11 is thinner and lighter than my Asus laptop, weighing just 2.82 pounds and measuring 0.67 inches thick. The downside to its svelte profile is that its chassis can't accommodate very many ports: It has two USB ports, and only one of them is USB 3.0.
It has a Micro HDMI port, which will require an adapter or a special cable to plug into a display or HDTV. The side-mounted power button, meanwhile, is easy to access in all four operational modes, but I also found it too easy to press accidentally when I picked it up.
I realize this isn't one of Lenovo's pricey ThinkPad products, but Lenovo could have done better by the input devices. The trackpad seemed finicky and overly sensitive out of the box, and the control screen needed to change its settings is buried several levels deep. The keyboard experience is similarly awkward. There is so much flex to the Yoga 2 11's keyboard deck that I felt all the Chiclet keys moving around when I'd press just one.
As a tablet, the Yoga 2 11 is cumbersome. It's thicker and at least a pound heavier than a true tablet, let alone the 2-in-1 hybrids that let you detach the keyboard. It worked well as a tablet when it was in my lap, but it's too heavy and awkward to hold in one hand while you use the other to navigate the touchscreen.