Lenovo Y50 gaming laptop: Great performance spoiled by a sub-par display
It's a great choice if you're looking for a portable gaming rig on a budget. Unfortunately, Lenovo compromised several key components in order to offer the Y50 at a mid-range price.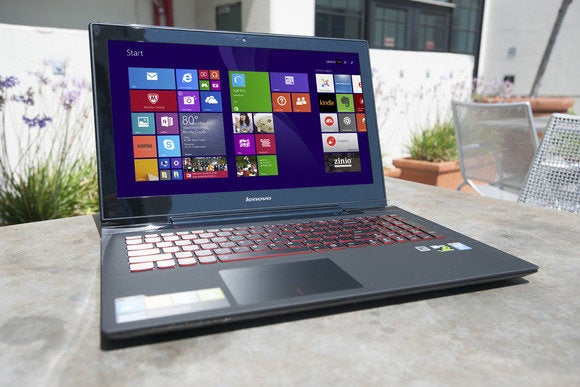 We've finally arrived at the long-foretold future where gaming laptops can be slim and light enough to fit comfortably on your lap. Heck, even a non-gaming company like Lenovo has managed the feat. Lenovo's 2014 Y50 isn't quite as slim as, say, the 0.7-inch thin Razer Blade, but at 0.9 inches and 5.4 pounds, the Y50 is still incredibly small for a powerful gaming laptop.
The Y50 delivers a strong price-to-performance ratio. This $1200 laptop ships with an Intel Core i7-4700HQ CPU clocked at 2.4GHz, supplemented by an Nvidia GeForce GTX 860M graphics card. That's pretty much the same core hardware as the Razer Blade Pro for half the cost, making the Y50 one of the best bang-for-buck mid-priced gaming laptops.
The video card features Nvidia's Battery Boost technology, which dynamically adjusts the GPU's power draw to keep games at a steady frame rate while putting the lightest load possible on the computer's battery. And Nvidia's ShadowPlay technology allows you to record game footage without a performance hit. You can read more about Nvidia's latest mobile GPU architecture in this story.
The Y50 comes with 16GB of DDR3L/1600 RAM and a 1TB, 5400-rpm hybrid hard drive with 8GB of solid-state memory. A hybrid drive is better than a purely mechanical one—especially one that spins its platters at just 5400 rpm—but it's still something of a letdown considering that most gaming laptops are moving exclusively to SSDs. SSDs are expensive, though, so I'm sure that was one of Lenovo's key cost-cutting moves.
The left side of the machine features two USB 3.0 slots, an HDMI-out port, Ethernet, and the power input. The right side has one USB 2.0 port, a memory-card reader, a headset jack, S/PDIF digital-audio out, and a security-lock slot.
Inexpensive power
The Y50 is a steal at this price. It doesn't compare to the raw power of something like the Alienware 17, but that's also a much more expensive machine. Lenovo packed a lot of power into this machine while keeping the price low.
The Y50 delivered a middling Laptop Worldbench score of 90, which is lower than our baseline model (a Dell XPS 15 with an Intel Core i7-4702HQ and a Nvidia GeForce GT 750M) and much lower than the Alienware 17's score of 122.
Much of the problem resides with the Y50's hard drive, which drags down the whole system. When you move over to games—in other words, experiences that are less restricted by the hard drive—the Y50 begins to hold its own.
The Y50 pumped out a perfectly respectable 92.5 frames per second (fps) when running Battlefield 4 at 1920x1080, medium settings. That's pretty much on a par with the Alienware 17, which delivered 98 fps, and it's definitely better than the 60 fps most PC players would consider "standard."