Lenovo IdeaPad 100 review: This big laptop's got a tiny little processor, but it's cheap
This Lenovo laptop is poised to take on Chromebooks, so at best expect Chromebook-style performance.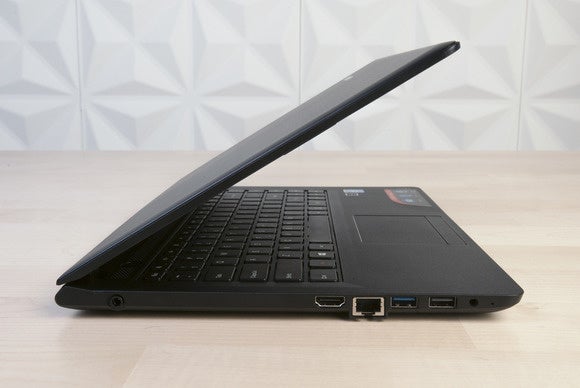 If you're really on a budget, maybe the Lenovo IdeaPad 100 is right for you. Maybe. Maybe. Lenovo intends for the IdeaPad 100 to take on Chromebooks, and thus it's selling these laptops for as little as $300 with Windows. Not bad, Lenovo.
But--and this is a big but--that price is only possible by taking a significant performance hit. Don't expect to do much on this laptop besides type up documents and browse the web.
The design
The design of the IdeaPad 100 is as inoffensive as possible. It is just a black rectangle with a slight carbon fiber-esque texture on the lid. It is the mid-size sedan of laptop designs, a.k.a. perfectly average in every way. And that's not necessarily a bad thing--when you're buying a laptop for this cheap, having it look "like every other laptop" is decidedly better than having it look like a cheap laptop.
The IdeaPad 100 model we took a look at is also a bit smaller than some of the competition, coming in at 14 inches with a glossy 1366x768 display. It's not a fantastic screen, but the viewing angles are quite a bit better than, say, the Acer Aspire E-15. And while color accuracy is (no surprise) poor, colors do seem to pop a bit more on the IdeaPad 100 compared to most of the competition.
Build quality is fairly solid, apart from some flexing at the bottom of the screen. The IdeaPad 100 feels like a laptop you could throw into the bottom of a bag with some textbooks and not worry about it. It's light on ports, with merely power, HDMI, Ethernet, a unified headphones/microphone jack, and two USB slots (one 3.0, one 2.0) on the left side. There's a card reader on the front. Nothing at all on the right.
The keyboard is surprisingly nice, with a decent amount of click to the keys. You lose out on a numpad by downsizing to a 14-inch laptop, but...will you really miss it? Though on that note, it is odd that Lenovo decided to nix the numpad but still include a column of keys dedicated to the Home block (Delete, Home, End, Page Up, Page Down). It seems wholly unnecessary.
The trackpad is finicky, to put it politely. For some reason the trackpad seems to have no problem as long as I place my finger flat on the surface before dragging. If I try to use the tip of my finger however (like I'm pointing at the trackpad) it tends to only register half of my swipes. Considering that's how I typically use a trackpad, the IdeaPad 100 and I are constantly fighting. Your mileage may vary.