Lenovo Erazer X510 review: An attractive PC for gamers with shallow(ish) pockets
Lenovo's Erazer X510 gaming PC is a good choice for an entry-level gamer with a limited budget.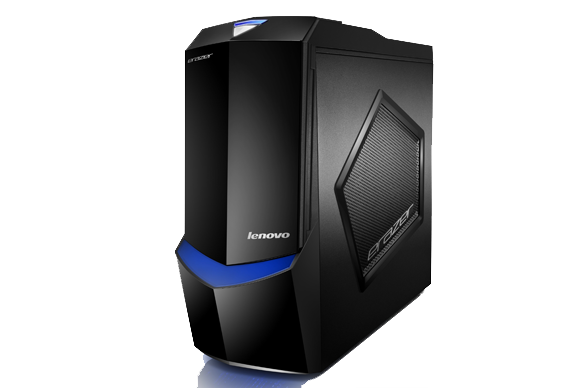 We all dream of the day we can afford a triple-GPU gaming behemoth that can run the most demanding AAA games on a 4K monitor at a frame rate that never dips below 60fps. But for most of us, that dream is about as attainable as owning a Formula 1 race car. If you don't want to build your own rig, a solid, no-frills gaming PC like Lenovo's Erazer X510 is one of the best alternatives.
Lenovo chose a strong CPU for this machine--an unlocked Intel Core i7-4770K--packed it with 16GB of DDR3/1600 memory, and priced it aggressively at $1350.
Having an unlocked processor allows you to explore how much headroom the processor has. In other words, you can run it a higher frequency than the manufacturer has specified.
Overclocking can be risky if you don't know what you're doing, but Lenovo makes it push-button simple--literally. There's a big glowing button on the front of the Erazer's case that changes the processor speed on the fly.
But since most games are GPU bound--meaning they push a system's graphics processor to its limit long before the CPU becomes a bottleneck--that big ol' overclock button is something of a gimmick (unless you're running CPU-intensive applications such as video transcoding and the like).
A computer for the budget-conscious gamer
An SSD would have pumped up the Erazer's benchmark performance, but it would have also boosted its price tag. So Lenovo split the difference and slapped a hybrid drive with 1TB of platter storage augmented by 8GB of solid state memory. If you want even more storage, you can take advantage of the front-accessible, hot-swappable drive bay in the front of the machine. There's also one open 3.5-inch drive bay and one unused SATA port inside should you decide to upgrade to an SSD down the road (you'll need a tray adapter, of course).
Beyond that, your internal expansion opportunities are very limited. The 625-watt power supply might support a second video card running in SLI, but fitting a card inside the case would be a very tight squeeze. It would also significantly reduce the already limited airflow (the system has just two case fans).
As outfitted, the Erazer delivered a Desktop Worldbench 9 score of 100--meaning it equaled the overall performance of our homebrew baseline model, which has a Core i7-4770 and a video card with an Nvidia GeForce GTX 780 graphics processor. That's an absolutely respectable score for a PC in this price range.
But you shouldn't hang your hat on just one benchmark. Consider the $1,300 Acer Predator G I reviewed several months back: It earned a Desktop WorldBench 9 score of 92. Does that mean the Erazer is the better computer? Well, it depends on what you're looking for in a gaming rig. The Erazer performed better with productivity and content-creation tasks--running Microsoft Office, Photoshop, and rendering 3D images--thanks to its more powerful CPU and its generous 16GB of memory.