Kyocera Hydro Elite: Rugged. Waterproof. Mediocre
What good is a tough phone if it can't even last through a whole day?
There's a new trend emerging among Android manufacturers and it hails from the Bear Grylls idea pot. Rugged, water-resistant phones are all the rage, and if you're a manufacturer, you might as well release a device in this class just to join in on the fun.
The Hydro Elite isn't Kyocera's first water-resistant phone to splash on the scene, and it's a relatively affordable mid-range phone with a few quirks that may make you think twice about its tempting price point.
Same old, same old
The Hydro Elite seems to have borrowed the iPhone 5's curved corners and chamfered edges, then bulked up at the gym and swapped out its aluminum backing for a plastic chassis. Despite its compact size, it's a mostly mediocre phone and there's nothing about it that stands out from the rest of the crowd.
At 4.82 inches by 2.38 inches by 0.43 inches, the Hydro Elite is smaller and lighter than both the Samsung Galaxy S4 Active and the Sony Xperia Z, two other phones that also tout their waterproof capabilities. It features a 4.3-inch, 1280-by-720 LCD display with 342 pixels-per-inch (ppi), and though its screen is bright enough to be viewed in sunlight, it's hard to see from an angle. Images also appear dull and faded, which becomes annoying if you frequently check up on Instagram and Flickr.

MICHAEL HOMNICK. The Kyocera Hydro Elite is a rather plain phone.
Its two main competitors have far superior specs. Both the Galaxy S4 Active and Xperia Z boast quad-core processors, while the Hydro Elite lags behind with a dual-core 1.5GHz Snapdragon S4 and 1.5GB of RAM. It's glaringly obvious that the phone is a bit behind in hardware capabilities when you pan between screens and launch applications, and even its keyboard fails to keep up with fast typing.
The camera application and its video-recording abilities make me dubious about relying on the Hydro Elite to document any adventures in the great outdoors. Despite the inclusion of 8-megapixel and 1.3-megapixel rear- and front-facing cameras, the pictures mostly come out grainy and blurry. The camera works best when there's plenty of light out.

FLORENCE ION. From left: a photo taken indoors, a zoomed-in photo taken outdoors, a photo taken through a window.
Lastly, its battery life will make you think twice about its effectiveness out in the wild. It lasted only 3 hours and 53 minutes on its 2100mAh battery pack. If you enjoy daylong hikes, the Hydro Elite will barely make it through half of one.
A mostly untouched Android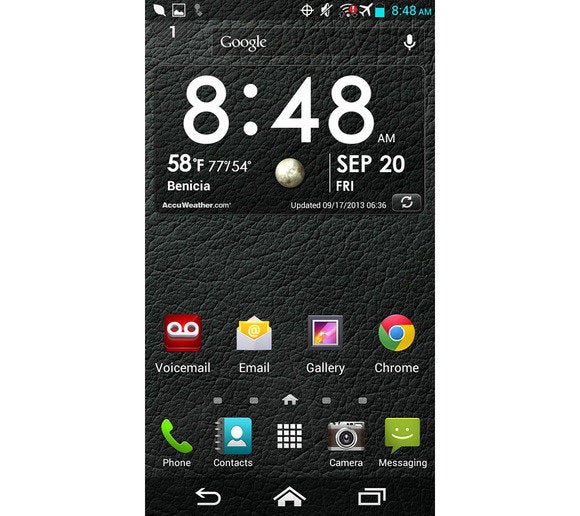 The Hydro Elite's home screen.