It's not technology, but humans that may not be ready for self-driving cars
Tesla Autopilot 2.0 is expected later this year.
As another example, Mindell cited commercial airliners, which have automated systems such as auto pilot and auto landing, but the aircraft still require highly trained pilots to manage those systems and to make critical decisions in real time.
Mindell said "it's reasonable to hope" that vehicles with autonomous features will help to "reduce the workload" of drivers in incremental ways in the future. But total automation, he said, is not the logical endpoint of vehicle development.
The cult of Tesla and technology
Tesla has a cult-like following among its vehicle owners, who rave about the quality and sophistication of the vehicles' telematics, handling, speed and, yes, Autopilot features.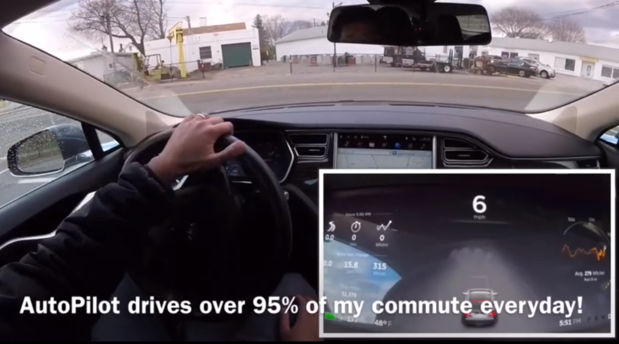 A Tesla Model S owner posted a video of how he uses Autopilot on his commute each day. The video displays the driver properly using the technology some of the time by keeping his hands on the steering wheel but often removing his hands while on the highway.
Like many other Tesla Model S owners, Brown was fond of demonstrating Autopilot's capabilities and had posted videos displaying it. At the time of the fatal crash, the truck driver claimed Brown was watching a Harry Potter movie, but police reports have not confirmed that, and Tesla has stated that movies cannot be viewed on the car's central consul infotainment screen.
According to published accounts, Brown loved cutting-edge technology and the personification of it in his Tesla Model S, which he nicknamed "Tessy." He even credited its Autopilot with avoiding at least one potential accident in the past. A video posted by Brown on YouTube shows his Model S swerving itself to avoid a utility truck that cut it off. Tesla founder and CEO Elon Musk reposted the video on his Twitter account as an example of Autopilot's capabilities.
According to a statement from his family, Brown was a master Explosive Ordnance Disposal (EOD) technician in the U.S. Navy, and an entrepreneur. He was a member of the Navy's elite Naval Special Warfare Development Group (NSWDG), also known as SEAL Team Six.
Tesla's Autopilot software is, however, a pilot program. It was never intended to be relied on as a fully autonomous driving technology.
AutoPilot is an opt-in feature and is not on by default. The feature requires the driver to accept an agreement every time it is turned on.
While adaptive cruise control and automated braking are becoming more common features in the latest vehicles today, Tesla has taken advanced driver assistance systems (ADAS) to a higher level, including prolonged self-steering and automated lane changing. Autopilot, however, is not fully autonomous; it's a public beta program that's intended to assist and not fully take over the task of driving. Data from the beta program is transmitted back to Tesla, allowing the company to improve on the technology.
Previous Page 1 2 3 4 Next Page