iPhone 5s gold rush begins, as crowds line up for new phone
Both the iPhone 5c and iPhone 5s went on sale in 10 countries Friday, but it was the 5s -- and the gold-colored model -- that brought out the crowds to Apple Stores.
"They ran out of the gold ones pretty early," said Iryna Hrubiy, a Drexel University student who wound up buying a space gray iPhone 5s at Apple's Philadelphia store. "But I'm starting to like this classy color combo I've got with the beige case and the black background, so I might keep it."
L Plaga, a rapper who wound up first in line at the Philadelphia store, was luckier with his color choice. "I want gold, gold is real good," he said. "It's a beautiful thing."
Why the focus on color? "People want to change their colors," said Ahmad Mohammad, a student upgrade from his iPhone 5 in Philadelphia. "The [iPhone] 4 and the 5 were white and black, so they just want something new."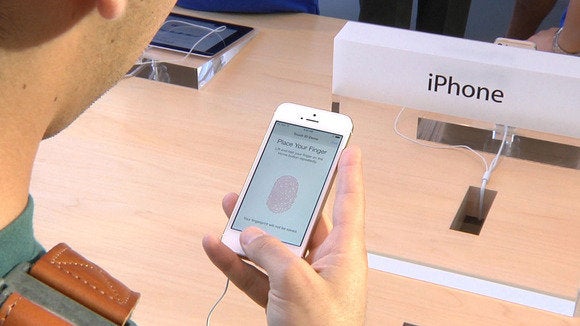 PHOTO: MARTYN WILLIAMS/IDG NEWS SERVICE. A customer tries out the iPhone 5S fingerprint sensor at the Apple Store in Palo Alto, California.
But there's more to the iPhone 5s than just a new touch of color. Apple's latest phone boasts a speedier processor, camera improvements, and a new security feature called Touch ID. The capacitance-based scanner is built into the iPhone 5s Home button and uses your fingerprint to grant access to your phone.
Touch ID certainly caught the eye of Marinez, the software engineer waiting to get his iPhone 5s in New York. I have a lot of sensitive documents, and if I lost my phone, I'd be in big trouble," he said.
In Philadelphia, Hrubiy also was looking forward to taking advantage of Touch ID. "I always know people are going to go for my phone, so I have the code put in there, but it takes forever to do that constantly," she said.
Andrew Booth, in Philadelphia for business and taking advantage of his proximity to an Apple Store to buy an iPhone 5s for his wife, thought Touch ID might have uses beyond its initial features. "I think it will be used for other applications eventually, particularly for PayPal," he said.

PHOTO: CAITLIN MCGARRY. By the time the Fifth Avenue store opened on Friday, the line stretched for blocks.
Customers looking to grab an iPhone 5s on launch day had plenty of company. In Philadelphia, the line began forming at 11 a.m. on Thursday; by Friday morning it stretched all the way down the block—a longer line than greeted last year's iPhone 5 launch at the same store. At New York's Fifth Avenue store, the line for an iPhone had stretched around three blocks by the time the store opened its doors.
That scene repeated itself around the globe. A huge crowd—with some estimates as high as 1500 people—massed outside of the Regent Street Apple Store, with the line stretching down Hannover Street into Hannover Square Gardens. Back on this side of the Atlantic, the crowd wasn't as large at the Cambridgeside Galleria outside Boston, but a healthy line of around 200 people formed in anticipation of the iPhone's arrival.