iPad buying guide: How to choose an iPad Pro, iPad Air, or iPad mini
These days, picking an iPad can be tricky, but here's the lowdown on which model is right for you.
Who it's for: Just about anyone, but especially people who are happy to trade a little weight and size for a larger screen that's more comfortable for imperfect eyes to scan.
Small is beautiful: iPad mini 4
Apple pretty much took 2014 off when it came to the iPad mini, adding a Touch ID sensor (and very little else) to the iPad mini 3. But 2015 has been very, very good to fans of the smallest iPad. The iPad mini 4 is powered by a speedy A8 processor and has 2GB of RAM, making it almost—but not quite—the match of its big brother, the iPad Air 2. The Air 2 is a little bit faster, but only by a hair. And the iPad mini 4 has access to all the advanced features of iOS 9 that its predecessors didn't have, including Split View multitasking.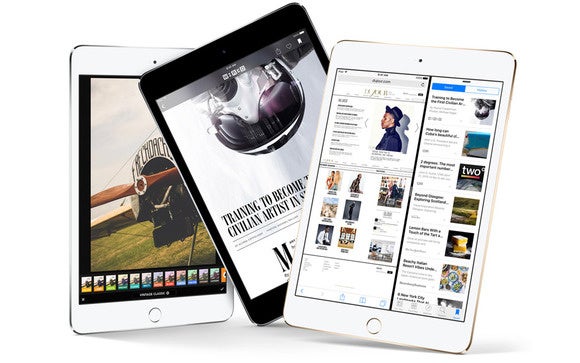 iPad mini 4. Credit: Apple
The iPad mini 4's screen is also to die for. The Retina display is laminated directly to the glass, reducing reflection and making you feel like the pixels are right underneath your fingers. The 2048-by-1536-pixel resolution is the same as the iPad Air 2—the only different is that all 3.1 million pixels are packed into a 7.9-inch diagonal screen, as opposed to the Air's 9.7-inch diagonal.
But making the trade-off that favors smaller size is what the iPad mini line has always been about. It's a pretty great size, at 8 inches tall by 5.3 inches wide, and weighing two-thirds of a pound. My 11-year-old son has been toting around an iPad mini for the last couple of years, and he absolutely loves it. As for me, I always found the smaller size of the iPad mini preferable to the iPad Air, but in the last year I've become aware that my aging eyes feel a lot less strain when viewing all those pixels on a bigger screen.
If you want the smallest screen with the most power, though, the iPad mini 4 delivers.
Color options: Silver, Gold, Space Gray.
Storage options: 16GB ($399), 64GB ($499), or 128GB ($599).
Cellular options: 16GB ($529), 64GB ($629), or 128GB ($729).
Who it's for: It's the perfect device for someone who wants it all, but wants to keep it small.
Big screen, lower price tag: iPad Air
The original iPad Air, released in 2013, is still available for sale. It's $100 or $150 less than the iPad Air 2, but it's quite a bit slower and doesn't have access to some new features like Split View multitasking. The screen, while the same resolution as the iPad Air 2, isn't laminated to the glass, so it's got more glare and feels a bit further away when you hold it.
Previous Page 1 2 3 4 5 Next Page