Iota offers no-fee GPS tracking, thanks to long-range RF and your neighbors' Wi-Fi
The small Iota tags use long-range RF signals to transmit data from a tiny onboard GPS back to the Iota Home Base.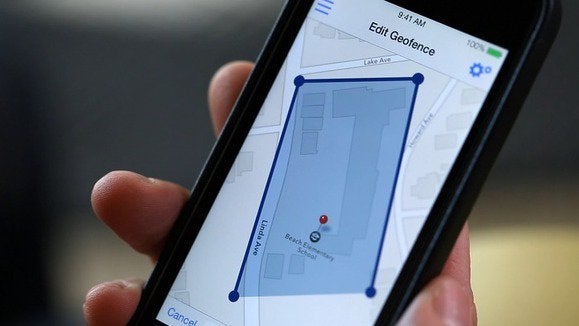 IOTERA. The app for iOS and Android lets you set geofences for things you're tracking, so you're notified if they enter or leave that space.
The app lets you set up geofenced areas for tracking, so if your dog manages to escape your backyard, you'd get a push notification right away and then be able to track him with the GPS. Bicycle monitoring will work the same way, sending you a push notification if the accelerometer detects that someone's messing with your ride. Pet monitoring will include not just your best friend's location but also his activity level.
Powering up
Both the Home Base and the Iota tags need power. The tags are rechargeable over USB, but Iotera says they can last months between charges, and the app should remind you when it's time to hunt them down and plug them in. The Home Base doesn't have batteries, so you'll need to keep that plugged in all the time. Iotera recommends you stick it to a window to get the most range, but needing to be tethered to a free power outlet is going to limit where I can place it in my house.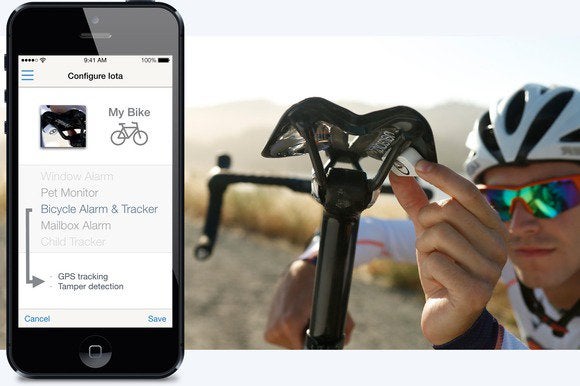 IOTERA. Among Iota's suggested use cases is tracking your bike, including an alert if someone tampers with the Iota itself.
Iotera is about halfway through its Kickstarter campaign, and a little over halfway to its $250,000 goal as of this writing. People who have preordered the Iota system can add themselves to this coverage map so you can see how strong the Home Base network will be in your area. Over in tech-happy San Francisco, virtually the whole city is covered, but in my smaller East Bay hamlet, there currently isn't another Iota backer for miles. (Unless they haven't registered--adding yourself to the coverage map is voluntary, and so far only 62 percent of the preorders have bothered.) Still, I like how the more units Iotera can sell in an area, the better coverage everyone will have.
The company expects to ship the Iota system in January of 2015. We'll follow up with a review when we can.