iOS app showdown: Video editors gone social
We put four video editing apps to the test.
Vyclone gives users less control over collaboration: If any two people are shooting video within 100 meters of each other, the app will judge that as a collaboration and act accordingly. Unlike Streamweaver, though, you're not given all the video streams at once. Instead, the app automatically edits together the different points-of-view to create an astonishingly coherent video record of the event you're recording, assuming you and your unknown collaborator are filming roughly the same event. You can also keep your raw footage, or ask the app to 'remix' a different edit for you. The end result is surprisingly impressive, but a user's inability to control the collaboration might make Vyclone unusable for some folks.
Threadlife: quick video collages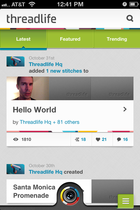 This app is very much its own thing--either an individual video maker, or a collaborative effort, depending on your choice. Either way, it limits your video shooting to three seconds apiece, forcing users to essentially create a collage of moments rather than full-blown documentary recordings of events.
Threadlife presents several ways to make your collage. You can create one, ever-lengthening thread of video that you add to (in those aforementioned three-second bursts) in perpetuity, or create a new thread for stand-alone events that you wish to document. Given the three-second limit on video, however, the effect can occasionally seem quite disjointed.
You can also invite friends to collaborate on threads, which reduces the awkward nature of the solo clips by at least providing a sort of call-and-response conversational rhythm to the video.
Conclusions
Threadlife's three-second limit on video ultimately makes the app a nonstarter for me. There may be users who like the impressionistic video that the app ultimately creates, but I want more control over the story I'm creating and sharing with others.
Streamweaver and Vyclone come closer to the mark, but neither is completely satisfying. Streamweaver falls first, though; it gives users better control over their collaboration, but the split-screen effect eventually looks like security camera footage more than anything, which is not the effect I'm going for when shooting video of my son unwrapping presents. I'm not satisfied with Vyclone, either, but it's close to being a great and useful app: All the developers have to do is give users more choice over collaboration.
Ultimately, my choice is Givit: The on-screen tutorials make the app a breeze to use; users can guide the editing process without getting bogged down in technicalities, resulting in polished, semi-professional looking videos that are a joy to share with friends and family.