iOS 9 makes Siri more 'proactive' and adds video search
iOS 9 makes Siri more "proactive," plus Apple Pay expansion, Maps transit improvements, iPad features for power-users and a new personalized News app.
Siri is about to get much, much smarter.
On Monday morning during WWDC's keynote, Apple CEO Tim Cook revealed new enhancements to iOS 9, calling it "the world's most advanced mobile operating system." Among the key features are a major Siri update, deep-dive transit Maps, and a ton of useful user-experience improvements.
According to Craig Federighi, Apple's senior vice president of Software Engineering who led the iOS presentation and demo, Apple wanted to add "intelligence throughout the user experience" in iOS 9.
Siri
In iOS 9, Siri can pull up photos and videos stored on your device. More impressively, Siri becomes a smarter assistant by looking at how you use your iPhone at any given moment and recommending ways for you to use it next, interpreting natural language into commands. For example, when you're looking at a webpage on Safari, you can create a Siri reminder by saying "Siri, remind me about this later," and Siri will then refer back to the webpage you are browsing.
Furthermore, Siri has become a "proactive" assistant that analyzes information about your daily habits, taking into account your location, the time of day, the app you are viewing, and what other devices you have connected-all in order to better anticipate your next move. When you plug in your headphones, for example, your iPhone will launch your Music app and display your most recently listened to track right on your lock screen. And when you connect your iPhone to your car, Siri will suggest the audio book that you've been listening to on your commute every day. (Apple didn't specify if a CarPlay-connected vehicle was required for this feature, but it seems likely.) This new, more intelligent Siri also takes event invites you receive in Mail and automatically creates events in Calendar.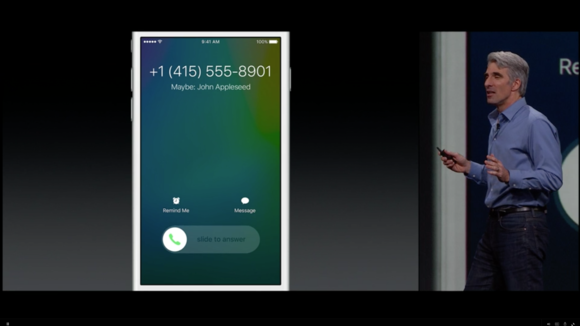 In addition, Siri takes into consideration other information from native apps. For example, when you receive a phone call from an unknown number, Siri will go through your Mail and Contacts to try to decipher who might be dialing you on the other end.
Spotlight
Searching in iOS 9 will also be more efficient, thanks to a new and improved Spotlight. Spotlight will support video search from Vevo, Vimeo, and YouTube, and you will be able to play videos directly from the search results. A new Spotlight search API will also allow developers to yield search results with deep-links to their app. Using Spotlight to search for a recipe, for example, will surface search results from food recipe apps and take you right to the appropriate recipe within the app.
Apple Pay
iOS 9 replaces Passbook with Wallet, a new native app that will store your Apple Pay information as well as credit and debit card information from your bank and rewards cards from various retailers. Apple Pay will launch in the U.K. in July, and already has several thousand partners on board-including London's public transportation system.