iOS 7, Mavericks, and more: Developers react to WWDC announcements
Apple's 2013 Worldwide Developers Conference keynote was packed with announcements of serious import to developers in Apple's ecosystem--chief among them, the debuts of the wholly-redesigned iOS 7 and OS X Mavericks.
"Two operating system versions--the current release and the previous one--is always a nice standard," said Paul Haddad, the lead developer at Tapbots. With his company's Tweetbot for Mac, Haddad said, "we only support 10.7 and 10.8 today," adding that "10.7 is minuscule" across his installed user base. He acknowledges that his adoption numbers are skewed by the fact that Tweetbot is sold only through the Mac App Store, which requires 10.7.
The other Paul, Rogue Amoebas's Kafasis, doesn't have that luxury. He pointed out that while Apple claimed that 93 percent of the iOS installed base was running the latest version, iOS 6, the only stat Apple offered on the Mac side was that after six months, 35 percent of OS X users were running Mountain Lion. "They didn't say what that installed number for Mountain Lion is now," Kafasis said, "which may mean it's not much higher." His company sees about 20 percent of its users still running OS X 10.6 Snow Leopard, and another 20 percent on 10.7 Lion; the rest have moved on to 10.8 Mountain Lion. "We support the older platforms as long as we can," Kafasis said, "but when it becomes overly difficult and seems to be holding back future development, we have to let go."
Multitasking, multitasking, multitasking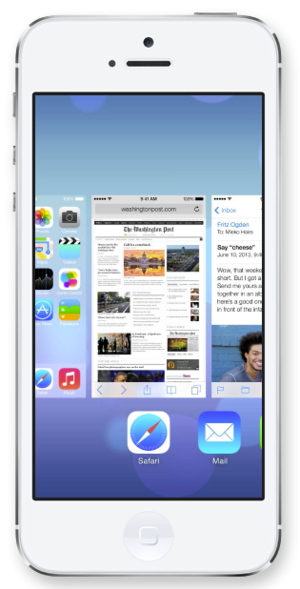 "iOS 7's new multitasking options are a big deal," said Aged & Distilled's English. Third-party apps will, for the first time, be able to pull down new data in the background; iOS will automatically analyze user patterns to determine which apps should be offered the option to do so, and when.
Tapbots's Haddad echoed English's sentiment: "The background stuff is something we've wanted for a long time...It opens up a lot of new possibilities for apps that we haven't seen before." He explained that this goes beyond merely allowing an app like Tweetbot to have pre-fetched your Twitter timeline before you launch it. "Some users want the option to get notified every time a specific account tweets," Haddad said. "That requires a ton of server-side work to maintain, but the new multitasking options could make it possible to handle entirely on the iOS device," benefitting users and the developer alike.
Grab bag
Developers are also intrigued by numerous tiny features that got only the briefest mentions on slides during the WWDC keynote. Panic's Sasser is thinking about games: "Sprite Kit"--a technology that should make it much easier to create game graphics and animations--"has me excited," he said. "I always wanted to do fun physic-y things, but I didn't want to build or rely on a whole game engine."