iOS 7: How its latest features stack up to Android
Apple announced a slew of updates to the mobile OS in the form of iOS 7. We take a point-by-point look to see how Cupertino's new mobile offerings stack up against those from Mountain View.
Winner: Android wins. Safari appears to be following Google's lead in the mobile browsing space.
Intelligent, voice-activated search and assistance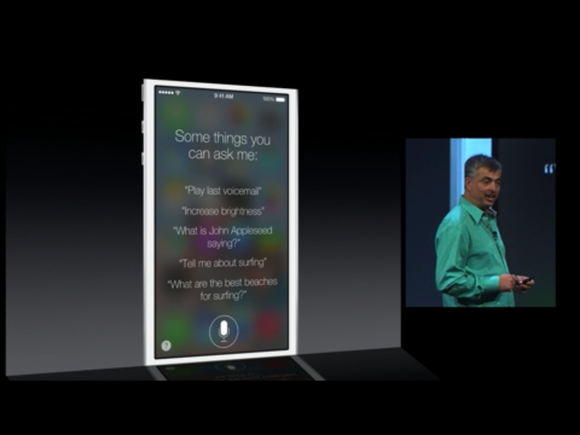 Over the past year, Apple has paraded voice-activated personal assistant Siri as the must-have smartphone feature, complete with celebrity-studded endorsements.
This go 'round, however, Siri faces serious competition in the voice-operated personal assistant space thanks to Google Now. While Now isn't strictly a personal assistant or a voice UI, its predictive technology helps organize one's digital life across multiple apps and services.
In addition to UI updates and a more natural speaking voice-as well as gaining the ability to speak in a man's voice-the updated Siri has been granted far more control over the iPhone's hardware. For example, users can now toggle services like Bluetooth using just their voices, and Siri will dutifully comply. Additionally, Siri can now answer questions more intelligently via new integration with Wikipedia, Twitter, and (both oddly and logically enough) Bing. (Google has been jettisoned from Siri's repertoire.) The kids in Cupertino also unveiled iOS in the Car, a Siri-integrated system that will allow drivers to peruse the virtual world safely and hands-free.
Winner: Android. This is neck-and-neck. Certainly iOS grants far more control over your device. However, Now's powerful new predictive tech is at the bleeding edge of the productivity space. If you haven't seen it hand-deliver a baseball score, or tell you your travel times-all without being asked-you haven't fully seen the Now experience.
Streaming music
Apple's new music service was just about the worst kept secret in tech. The new feature now known as iTunes Radio presents streaming stations based on personal user choices. The service will be free and ad supported (though it will be ad-free for users using iTunes Match). And, of course, it will all work with Siri.
It may be unfair to compare Google All Access and iTunes Radio directly, as Radio has more in common with a service like Pandora, while Google is more likely to run up against cafeteria music services like Spotify. While All Access will create stations for you based on a particular song or artist, it will also allow you to listen to an entire song or album on-demand-a nice function that appears to be missing from iTunes Radio (of course you'll be only a tap away from buying any track for your personal library).
Winner: Android-simply because All Access is more versatile. This may change easily as both systems evolve into the future.
Your move, Google
While Google used its developers' conference to show off some cool new Android functions, the fact that it didn't announce the latest Android version jump leads us to believe that a bigger, generational announcement will be coming soon. In regards to function and aesthetics, Apple has thrown down a mighty salvo, and we'll soon find out if Google has the chops to respond.
Previous Page 1 2 3