Interest in smartphones is flattening
Worries about sales hit both Apple and Samsung stock prices.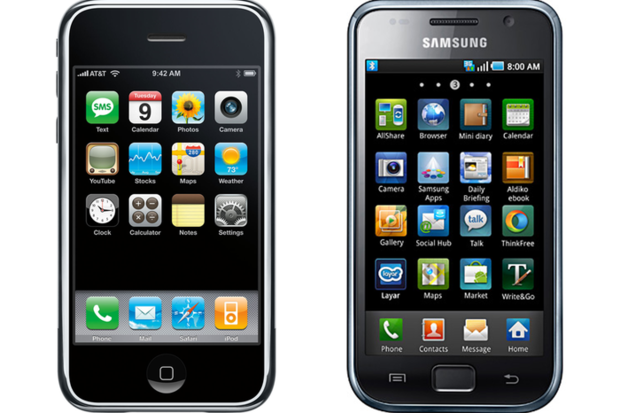 Growth in smartphone sales, both the iPhone, left, and Samsung phones, is declining, raising concerns among investors.
Both Apple and Samsung this week predicted slow growth for smartphone and mobile phone sales in early 2016, making investors queasy.
Apple's stock dropped 6.5% at Wednesday's market close after CEO Tim Cook told investors he expects iPhone unit sales to decline for the current quarter compared to a year ago. Apple's iPhones make up the majority of its revenues. Trading in Apple was flat this morning.
Samsung's stock also dropped by 2.5% late in the day of Thursday trading after the South Korean company reported a 10% drop in mobile sales in the last quarter of 2015. The company said it would be a challenge to maintain operating profits for 2016.
The forward-looking comments by both companies reflect a saturated market for smartphones, especially in the U.S., and in other developed countries. Customers are also keeping their smartphones longer. Average users don't see a reason to upgrade every year or two because the newest smartphones aren't seen as significantly better than what they already own.
"Most people in mature markets who want a smartphone already have one, so saturation really is a factor," said Jack Gold, an analyst at J. Gold Associates. "Couple that with the fact that new devices are a slight improvement over the old ones, rather than truly major upgrades. Most users aren't anxious to [pay] for a new device when theirs is perfectly functional and meets their needs."
In the huge China market, consumer interest in buying smartphones is expected to remain solid, especially in cities in the developed eastern region, but China's economy is slowing and its currency is in question, affecting both Apple and Samsung sales and the way investors view those companies, analysts said. Research firm Strategy Analytics said China's smartphone shipments actually dropped by 4% in the fourth quarter of 2015.
IDC
"The smartphone market has turned from a sprint to a marathon," said TBR analyst Jack Narcotta. "The ramp-up since 2007 has been really exciting, and it's been an unbelievable run, for Apple especially, … Now the market is going to be really flat because you have a lot of good devices that don't cost a lot. There aren't that many people with smartphones that are multiple generations behind."
So, has the smartphone market peaked? Analysts were reluctant to say the market has indeed peaked, but conceded that it will be much flatter than in the past. Apple might see a down first quarter, and a smaller than normal increase in coming quarters, for instance.
Smartphones by the numbers