Intel's Broadwell chip lets Apple go Retina with MacBook Air
Unlikely to wait until Skylake, Intel's next iteration, due later this year.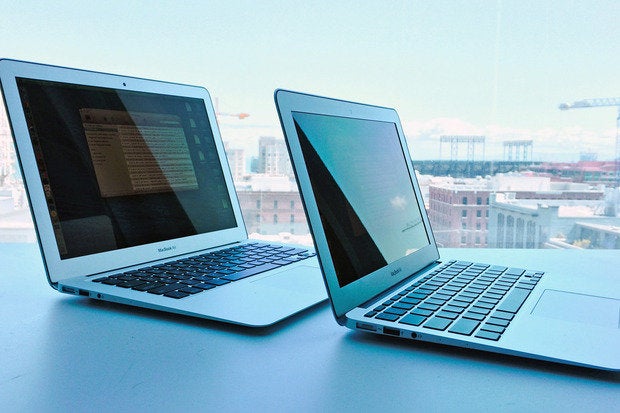 The new Core processors and graphics chipsets that Intel launched on Monday will allow Apple to build a MacBook Air with a higher-resolution Retina screen without sacrificing battery life, analysts said today.
"Apple represents the customers that Intel most wants to serve," said Shane Rau, PC chip analyst with IDC. "Even on the lower end, [Broadwell] could run a high-resolution screen."
Broadwell is Intel's code name for its fifth-generation Core processors, which it officially released Monday at the International CES, the massive trade show in Las Vegas that runs through Friday. Several name-brand personal computer makers, including Asus, Dell, Hewlett-Packard and Lenovo, have said they will use the new chips.
The dual-core Core i3, i5 and i7 Broadwell chips are designed for notebooks, desktops and mini-PCs, and are paired with either Intel's premium Iris 6100 graphics core, or its HD 5500 or HD 6000 graphics core; the latter two draw less power.
Current MacBook Airs rely on a fourth-generation 1.4GHz Core i5 and Intel's HD 5000 graphics core. A comparable fifth-generation chipset would be the 1.6GHz Core i5 and the HD 6000 graphics core.
Overall, Intel touted the new Broadwell chips and accompanying graphics cores as faster, smaller -- they're based on the 14-nanometer manufacturing process, a reduction from the previous generation's 22-nanometer -- and more power efficient.
The performance and power improvements would make possible a Retina-equipped MacBook Air -- Apple's lightest, thinnest notebook -- without sacrificing battery life or changing the laptop's external design, experts said.
"Broadwell is largely about power consumption and density," said Ezra Gottheil of Technology Business Research. "If you're being held back by the battery lifespan, you might make a tradeoff with Broadwell," Gottheil said, adding that Apple could equip the Air with a power-hungry Retina display while maintaining the notebook's streamlined profile.
Rumors have circulated for months that Apple has been working on a new MacBook Air that would feature a high-resolution display like those that now populate the pricier MacBook Pro line. Much of that chatter has focused on a 12-in. screen, which would fall between the current 11-in. and 13-in. models, possibly replacing one or both.
Traditionally tight-lipped, Apple does not pre-announce systems or support for specific Intel chip generations, so the timing of a revamped MacBook Air is unknown.
Analysts differed on when to expect Broadwell-based notebooks. Mark Hung, a chip analyst with Gartner Research, said that OEMs (original equipment manufacturers) will start selling laptops with the Broadwell Core processors this quarter, while Rau of IDC said a March or April timeline was more likely.
But in the past, Apple has almost immediately jumped on Intel's newest. In June 2013, Apple unveiled new MacBook Air models that used Intel's fourth-generation chips, dubbed Haswell, just a week after the chip maker released them at a trade show in Taiwan.