Intel shows off next-gen Skylake processor, says Edison embedded chip is shipping
As its Intel Developer Forum (IDF) kicked off, Intel presented its broad vision of processing data from wearables up through the data center.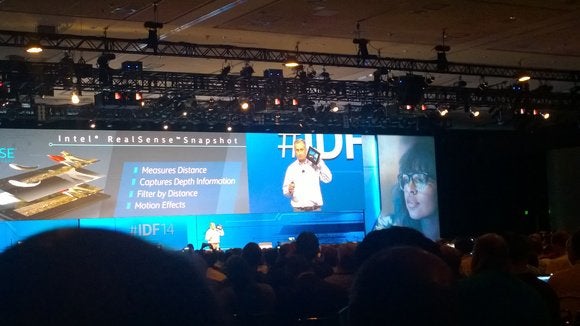 Forget PCs, tablets or the microprocessors that power them. Intel kicked off its Intel Developer Forum on Tuesday by talking about something that's unusual for Intel: end products, and specifically, wearables.
About 43 miles away from where Apple announced its first wearable Apple Watch, Intel's chief executive showed off several wearables too, including ones that the company helped develop as well as those created by its partners. Krzanich said that the next-generation wearable from its Basis group, for example, will ship by the 2014 holiday season. It will be thinner, lighter, with a better battery life and better screen, he said.
Krzanich also said that its Edison embedded processor, announced at CES, is now shipping. And executives showed off a working demonstration of Skylake, the chip architecture that will succeed the just-launched Core M.
Finally, Michael Dell appeared on stage to announce the Dell Venue 8 7000 series, a tablet due this November that will include the first of Intel's RealSense depth cameras built inside.
Intel's goal is to extend its leadership in microprocessors from the data center out through the PC to the new network of sensors that are appearing in wearables. All of that will provide data for Intel's processors to crunch: By 2020, the total device market will exceed 50 billion devices, supplying 35 zettabytes of data, Diane Bryant, the executive in charge of Intel's data-center business, said. That's going to place more of an emphasis on data analytics, where Intel's "big iron" server processors will come into play.
Edison will power embedded technology
"It's more than just hitting a number," Krzanich said of the company's newfound emphasis on embedded technology. "It's how do you build a platform that lets people build on this."
By 2020, up to 17 billion devices could make up the Internet of Things, Krzanich said. Intel hopes to power them through its Edison platform, which combines computation with communication capabilities.
Edison is a successor to the Quark embedded processor that Intel launched at last year's Intel Developer Forum--but Edison is made using a 22-nanometer process. Edison itself was announced at CES, and it's now shipping, Krzanich said, with a target price of about $50.

The chief strategy officer of Fossil, Greg McKelvey, touted Intel's commitment to the wearables market
In wearables, Intel hopes to establish what he called an edge-to-edge solution: a platform to sense data, process it on the device, and then ship that data back to the data center. Products like its prototype CitySense air-quality monitors have been deployed in London, Dublin, Ireland, and San Jose, Krzanich said.