Instagram launches self-destruct message app in Singapore, NZ and South Africa
With Bolt, users only need to tap once to send a video or photo to their intended recipients.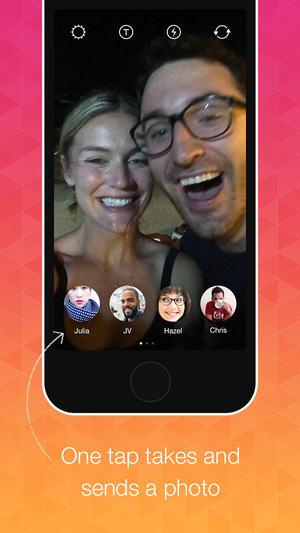 Bolt gives up the shutter button and instead uses the profile pics of your friends: Just tap one to share a photo.
One tap is all it takes to instantly share photos and videos with your friends and family if you're using Instagram's new standalone one-to-one visual messaging app, Bolt.
A quick tap on the profile photo of your recipient will capture and instantly send the photo while a long press will record a video of up to 5 seconds long before sending it to the recipient. If you're worried about being bombarded by photo messages or privacy issues, you'll be happy to note that the messages will self-destruct once read.
Bolt is now available to users in Singapore, New Zealand and South Africa who are using iOS and Android devices. According to an interview with American tech media network The Verge, an Instagram spokesperson said Bolt hopes to ride on the geographical diversity and tight knit communities in the three countries but will expand to other regions soon.