I see London, I see France, I see 8GB and 16GB versions of a 4.5-inch Moto G smartphone
An accidental early listing on Amazon gives hints of more details for the forthcoming Moto G.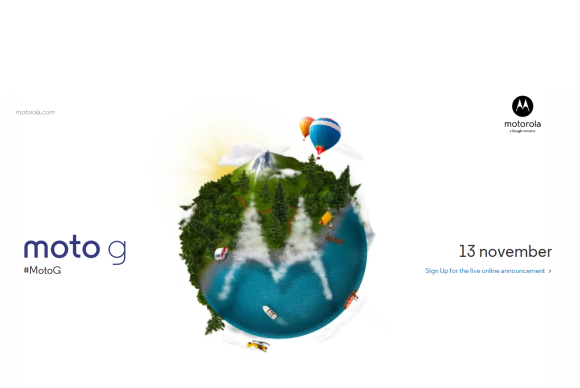 Continuing the time-honored tradition of leaky Google hardware releases, a bout of unintended web seepage forced Motorola to preemptively announce that it would indeed unveil a slightly smaller, budget version of the Moto X, known as the Moto G.
The official announcement will be held tomorrow in London. We will, of course, report all the details here once they are known.
But before the big official unveil, an accidental early listing on Amazon.co.uk, as captured by Pocket-lint, has unearthed a few more juicy early details.
According to the since-removed listing, a contract-free, 16GB version of the 4.5-inch Moto G will be available the day after the unveiling for £160 (or roughly $254).
The Wall Street Journal reports that unnamed sources have confirmed the Amazon listing details, and vaguely added that a contract-free version of the Moto G would be available for less in the U.S.
It's also probably worth noting that, though the specs are still unofficial, accessory makers such as Illumishield are already offering official Moto G accessories.
A li'l Moto X
Currently, a contract-free 4.7-inch Moto X will run U.S. customers $500 and $550 for the 16GB and 32GB versions, respectively, on all four major carriers. Signing a two-year contract lowers the price to $100 and $150 on all carriers except T-Mobile, which only offers the full-priced unsubsidized version.
The wayward Amazon listing went on to report that the 16GB Moto G would sport a full HD screen, quad-core processor, and "personalized coloured backs."
These specs largely coincide with a Moto G promotional card for the UK retail store Phones4u uncovered by GSM Arena, which said that an 8GB version of the Moto G would be available for £134.95 sans contract (or around $215).
The Phones4u promo went on to describe that the 8GB version would have a 720p display powered by a 1.2GHz quad-core CPU. In addition, it would boast a 5MP shooter, a 1.3MP front-facer, and would come with Android 4.3 Jelly Bean.
The all-but-confirmed Moto G specs are a noticeable step-down from the Moto X, which runs on the 8-chip Motorola X8 Mobile system and boasts a 10MP camera and 2MP front facer.
According to the Amazon listing, the Moto G would come with "advanced Android with guaranteed upgrade." This probably means the Moto G will ship with Jelly Bean, but will soon be upgradeable to KitKat. This description would largely coincide with a recent Motorola's blog post that taunted all Moto Xs will soon get Android 4.4 KitKat.
The Moto X's real stand-out is its customization. This is an ability that may be lacking in the G. From what we can gather, the G will not offer the same level of personalization--at least for international customers.