HuffPost Live is coming to cable
The Huffington Post will provide daytime content to the AXS TV cable network.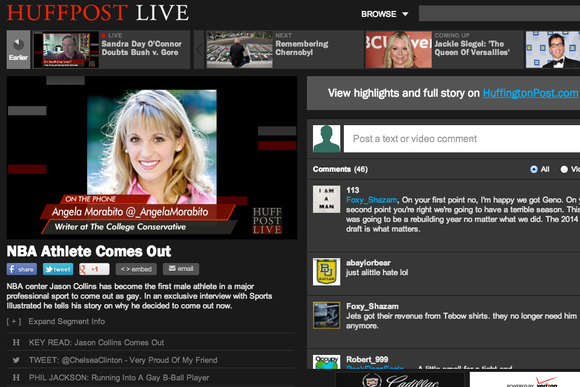 Arianna Huffington's multimedia empire built on left-leaning click bait continues to expand.
HuffPost Live, The Huffington Post's online interactive news chat network is making its way to your living room. The network has just inked a deal with Mark Cuban's AXS TV to bring six hours of HuffPost Live to the network from 10 AM to 4 PM EST, Monday through Friday.
HuffPost Live is a block of news discussion programming that incorporates user opinions along with interviews with relevant experts. Live will continue to be broadcast online and the TV version will still include all the viewer interactions including a vertical scroll of viewer comments.
A little more than a year ago, AXS TV was born out of the shuttered HDNet as a cable channel built around live content with a concentration on concerts and mixed martial arts programming. So, the deal with HuffPost Liveto bring live daytime content is a logical. AXS TV boasts a reach of 41 million homes.
HuffPo says it has plans to launch a free Live app that will further allow users to join the real-time conversation. The web incarnation of the Live invites users to record their take on the current conversation, which the producers incorporate into the discussion. The app would theoretically further incorporate this interactive process. Finally, the world will be able to hear more opinions of people who spend their daytime hours watching second tier basic cable programming.