HTPC Showdown: Which front-end interface is best?
We tested four media management utilities to decide which is best for your home theater PC needs.
Building the perfect home theater PC is easy enough--if you have the right guide. Setting up the perfect software front end is equally straightforward, but picking that software isn't so easy. You'll need first to consider the specific hardware inside your HTPC, and what you'll be asking your machine to do once it's sitting inside your living room.
A wide variety of HTPC media player applications is available, and this variety is both a blessing and a curse. After all, plain old Windows can run your machine, assuming that you are willing to deal with the inconvenience of controlling your entertainment center with a mouse and keyboard. But if you'd rather have a single application with a TV-friendly interface and the power to organize all of your photos, music, and movies for easy viewing, then dedicated HTPC front-end software is a much better option.
With that in mind, I rounded up a few of my favorite front-end utilities. Some are meant to run within Windows. Others have a low-impact operating system of their own. But all of them excel in specific situations. By the end of this article, you'll know which one is right for you.
Windows Media Center
We can't discuss media software without considering Windows Media Center--it's been a staple of home theater PCs for more than a decade. Windows Media Center was initially released in 2001 and came bundled with most editions of Windows from XP all the way through Windows 7. But everything changed with Windows 8 when Microsoft chose to unbundle our beloved Windows Media Center from most versions of the operating system, and instead distribute it as an optional download.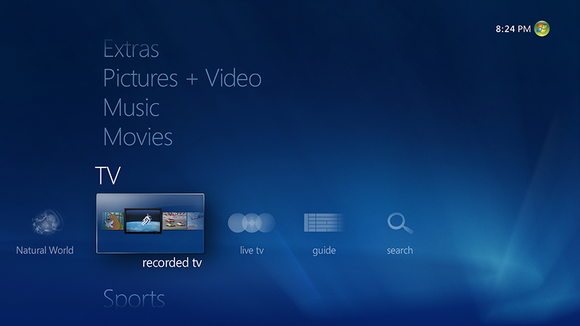 Windows Media Center is easy to use and comes with many versions of Windows. It lacks some of the more advanced features of open-source alternatives, however.
WMC is great because it runs well on a wide variety of hardware and--thanks to over a decade of user feedback--remains the easiest HTPC front end to set up and use. It's also compatible with the lion's share of TV tuners and offers recording functions that you can use to turn your PC into an impromptu DVR.
The downside, though, is that Windows Media Center no longer supports DVD playback, so if you're using Windows Media Center 12 or later, you'll need to download a separate DVD playback app from the Windows App Store. If you happen to be running Windows 8 Pro, you can also purchase and download the Windows Media Center Pack from Microsoft to enable DVD playback in WMC.