HTC Vive review: Reach out and touch the virtual world
Living la vida virtual.
Self-reflection
Now, does that mean the Vive is perfect? Absolutely not. I've outlined above the strengths of the Vive hardware—and there are many—but let's talk about some of its deficiencies.
Namely: The headset design. It's the one place where the Vive really fails to hold its own against the Rift. And it's not because the internals are worse. On the contrary, the Vive and Rift boast pretty much identical specs—90Hz refresh rate, 1080x1200 resolution per eye. The Vive's FOV is a bit wider, the screens seem brighter, and there's less light-streaking thanks to its circular lenses, but I think the Rift tends to focus better on objects close to the eyes and text generally looks cleaner.
A draw, in other words. Compromises on either side.
But Oculus put a hell of a lot of engineering work into the look and feel of the Rift. It goes on and off in one smooth motion thanks to its spring-loaded design. Once adjusted properly, it stays in place. It's relatively lightweight. It has those neat little headphones that swivel down over your ears.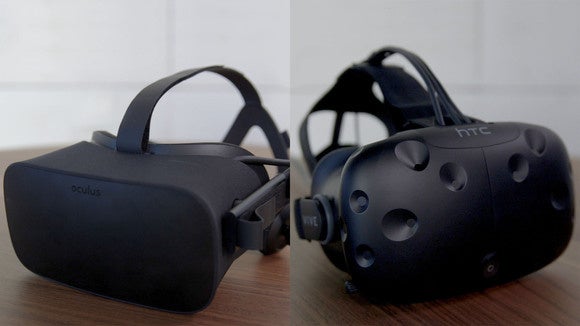 Oculus Rift on the left, HTC Vive on the right. Credit: Adam Patrick Murray
The Vive is more in line with the Rift's second-gen developer kit (DK2, for short). It's held on by a series of elastic bands, meaning it's much harder to get the perfect fit. Most people will undoubtedly settle somewhere between "hangs too loose" and "crushes their face like a pulpy grapefruit." The standard foam is hotter and somewhat itchier than what the Rift uses. The three-in-one tether is heavy.
And headphones are a separate concern. There's an audio jack hanging off the rear of the Vive, so you can plug in the included earbuds or bring along your own pair, but it's one more cable to deal with. Personally I've been using Astro A50s because they're wireless, but they're also heavy and have a tendency to slip around when I look down.
Don't get me wrong: It's not like these are major issues. If you've never used a VR headset before, the experience is undoubtedly going to be more important than quibbles about the tether or the headphone situation.
But these material concerns are distractions pulling you back into normal reality—you know, the one where you're wearing a goofy headset and a pair of headphones. As soon as you think to yourself "Wow, my face is hot," or "Ugh, I think the tether is wrapped around my leg" you're no longer wholly focused on the VR experience.
Ready to launch
Let's talk about those experiences, shall we? As with the Oculus launch last week, I've gone ahead and split most of our discussion about software out into a separate article. But we can touch on the basics here.
Previous Page 1 2 3 4 5 6 7 Next Page