HTC Vive review: Reach out and touch the virtual world
Living la vida virtual.
Put your hands in the air
Rounding out the Vive experience is a pair of wand-shaped controllers which are also tracked by the Lighthouse base stations, giving you pseudo-hand tracking in VR and enabling you to swing a golf club, stab a goblin, shoot a bow-and-arrow, or throw donuts at a robot.
Each controller features a trigger, two grip buttons, a Menu button, a button to call up the Steam overlay, and a trackpad—twin to the nifty haptic trackpads found on the Steam Controller, meaning each can be used as a mouse, a scroll wheel, or a bunch of buttons depending on the developer's needs. And since you're in virtual reality you can often look down and see what the trackpad is currently functioning as, which is a definite improvement over the Steam Controller.
Not that most developers need more than a handful of buttons. Part of the Vive's charm is that walking around is handled by walking around and the camera is handled by looking around and that means you can have pretty simple controls. Most games I've played use the trigger as the "Grab" command and…well, in a lot of cases that's it.
A few more complicated games have started experimenting with gesture-based controls. The Gallery, for instance, has you pull out your inventory—literally a digital backpack—by reaching over your shoulder, squeezing the trigger, and then pulling the bag out in front of you. Again, intuitive.
Why is this important? Because the less people need to worry about controls, the more likely they are to stop thinking about "Oh, I'm in VR" and simply enjoy the experience. I've written at length about how disappointed I was by Oculus's decision to package an Xbox controller with the Rift, and that feeling's just as poignant now as it was a year ago.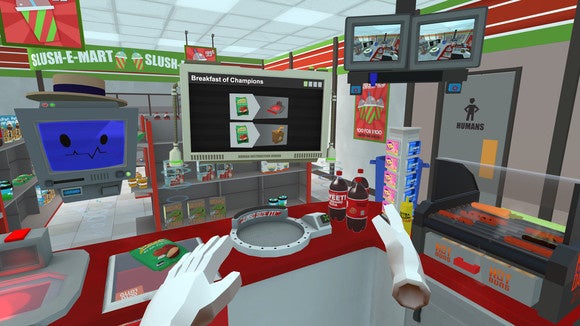 Job Simulator, an HTC Vive launch title.
An Xbox controller only appeals to longtime gamers. To anyone else, it's a nightmare. Try explaining to your non-gaming relative that they need to "Press the A button" when there's a black box strapped over their eyes.
Now instead, imagine telling them to bend down and grab the stapler they see on the floor. See the difference? I firmly believe if virtual reality is going to take off, motion controls are a key piece of the experience. Packaging the Vive wands alongside the headset adds to the cost, sure, but Valve and HTC have put together a no-compromises vision of where VR needs to go: Room-scale experiences, intuitive controls, and extremely precise tracking.
Previous Page 1 2 3 4 5 6 7 Next Page