HTC Vive review: Reach out and touch the virtual world
Living la vida virtual.
But though the Vive and Rift are both VR headsets, they differ in how they use the technology—and it's a difference that stems from Oculus's earliest days. Two or three years ago a few developers had started experimenting with the idea of standing (as opposed to sitting) while wearing the early Oculus dev kits, and I'd go to Oculus events and ask "So what's your stance on this?" And I'd get back something along the lines of (paraphrasing) "Unofficially, we think it's cool. Officially, it's a liability."
At the same time, we'd hear rumors about Valve's "VR Room." Valve would invite devs to its office in Washington where they had converted an entire room for inside-out VR—meaning, basically, that a camera mounted on the headset would map the walls of the room and warn you if you got too close.
An entire room for VR. At the time it seemed incredible. Now? It's a key feature of the Vive—sort-of.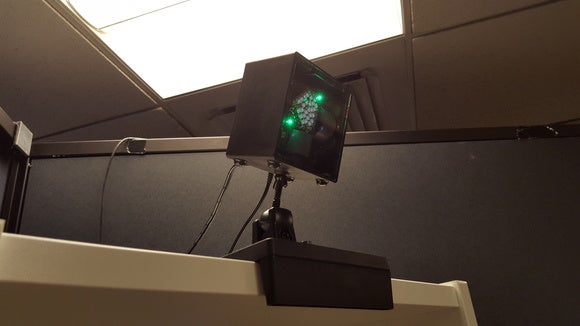 An early version of the Vive's Lighthouse sensor.
To make room-scale VR work in a normal setting however, Valve needed to change up its approach. Thus the Vive works with outside-in VR, meaning the position of the headset is tracked by two separate base stations, which sweep lasers (The future is cool!) across the headset to determine its position in space.
(Side note: These base stations also make an annoying, high-pitched humming sound that's only really noticeable at night, and probably not at all to some people, but I've found them a bit distracting in my bedroom.)
The concept is similar to the Oculus's camera—and, in fact, you can use the Vive like the Rift as a stationary, seated VR headset—but the range on the Vive is a fair amount larger. With optimal placement, the Vive can track an area up to fifteen feet by fifteen feet, though good luck finding a space that large in your house. Set-up involves placing the two base stations (together known as Lighthouse) high-ish up in your room—I have one on top of a shelf and the other mounted on my standing desk—and then calibrating the floor and the size of your space.
It's more intensive than the Oculus's set-up, but done correctly it means you can physically walk around in virtual worlds—and, more importantly, can do so without worrying. If you get too close to the walls, Valve's in-house "Chaperone" system simply fades into view, a grid marking the boundaries of your space and reminding you not to run full-tilt into your desk or whatever.
And best of all: Set-up is handled from within Steam. We'll go over the software side of things more later, but suffice it to say that as soon as you plug in a Vive, Steam downloads the necessary VR software. Easy.
Previous Page 1 2 3 4 5 6 7 Next Page