HP ZBook 15: This mobile workstation packs the features--and the pounds
HP's ZBook 15 is a top-flight performer, but it's anything but light.
Our test unit felt quick and responsive during our hands-on evaluation. High-resolution video looked smooth as silk on its 15.6-inch, 1920-by-1080 display, which has matte finish to eliminate reflections in bright environments. The Zbook 15's speakers sound pretty good, too. There's not a lot of bass, but they have a solid low-midrange that at least hints that a bass guitar and kick drum are in the mix.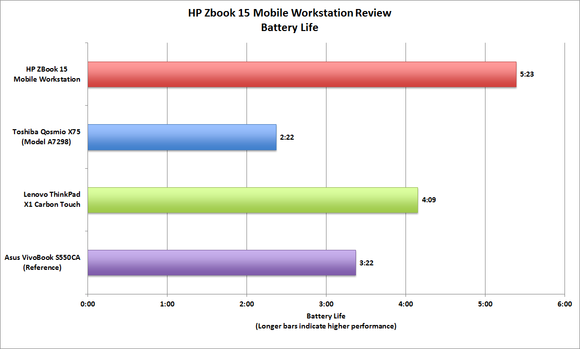 The ZBook 15 turns the tables when it comes to battery life, keeping you productive twice as long while away from an electrical outlet.
Port-wise, the Zbook 15 has everything you could wish for: gigabit ethernet, VGA and full-sized DisplayPort (you'll need an adapter for HDMI), three USB 3.0 ports and one USB 2.0 port, a headset jack, Thunderbolt, and a Kensington lock port. There's also an impressive array of slots: ExpressCard, SmartCard, and the usual SDHC slot. A fingerprint reader, 720p Webcam, and a DVD burner round things out. The ZBook 15 covers all the bases, but HP gives you the option of deleting components you don't need, saving you a little carry weight and cash.
Input Ergonomics
The please-everyone philosophy is also in play with the input devices. Along with the aforementioned fingerprint reader comes a touchpad with two sets of buttons: one at the top and one at the bottom. It looks odd, but assures that one set is always within easy reach whether you're typing or swiping.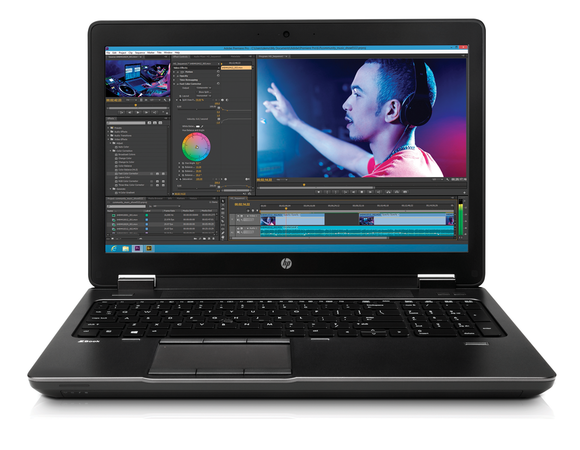 The ZBook 15 has a gorgeous 15.6-inch anti-glare display.
The ZBook 15's backlit island-style keyboard is nearly full sized, and there's a keypad for number crunching. It types decently, although the flat keys make for insecure initial finger placement. If the trackpad doesn't float your boat, there's an eraser-head cursor controller amid the B, G and H keys. But I found its rigid plastic cover too slippery to be effective, despite its being concave and covered with bumps.
Our ZBook 15 shipped with the Windows 7 Professional operating system (you can order Windows 8 Pro as a no-cost option). Corporations are migrating to Windows 8 slower than they did to Vista, so this is an important option. A three-year warranty is standard with every ZBook 15, but there are four- and five-year next business-day, on-site plans available for $149 and $259 respectively. Accidental damage and post-warranty coverage is also available.
The ZBook 15 is a solid piece of hardware in every sense of the word.