HP ZBook 15: This mobile workstation packs the features--and the pounds
HP's ZBook 15 is a top-flight performer, but it's anything but light.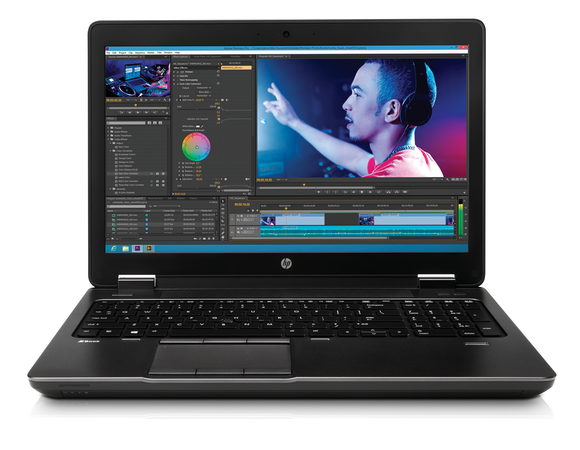 When mobile productivity means using CAD software or other computationally intense applications, you need more than a desktop replacement--you need a workstation. HP's ZBook 15 is fast and it includes all the latest technology, including Thunderbolt connectivity for bandwidth-hungry applications such as digital video editing. But one thing this mobile workstation is not is light.
The ZBook 15 is a handsome and substantial machine, with a magnesium frame, brushed-aluminum surfaces, and a dark gray and black paint scheme. But it's a stocky 1.2-inches thick and it weighs 6.2 pounds--that's a good pound heavier than most of the 17-inch desktop replacements we've seen. It feels rock solid at rest, and there's a docking port on its bottom if you're desk-bound more often than not. But when you do toss it and its two-pound AC adapter in your bag, your shoulder will get a workout.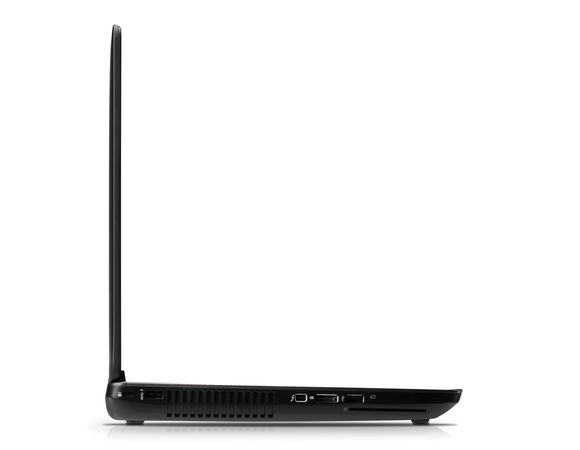 The HP ZBook 15 is made for work, not play. It's equipped with a high-end CPU, 16GB of memory, and a discrete workstation-glass GPU.
Buying the configuration we reviewed--HP's model D5H42AV--will give your wallet a bit of workout, too. It's currently selling at HP's website for $3233, but a 20-percent eCoupon brings that down to $2586 (less-expensive, less-powerful configurations are also available). That buys a lot of horsepower, including a fourth-generation Intel Core i7-4800MQ processor (with Intel's vPro management technology), 16GB of DDR3/1600 memory, and a discrete Nvidia Quadro K610M graphics card--with its own 1GB GDDR5 frame buffer--to supplement the Intel HD Graphics 4600 integrated into its CPU.
HP offers powerful connectivity options with the ZBook 15. Our eval unit was equipped with an HP hs3110 HSPA+ mobile broadband card and an Intel Centrino Advanced-N 6235 wireless 802.11n-plus-Bluetooth adapter. (But if you order a ZBook 15, we'd strongly recommend upgrading to Intel's Centrino Advanced-N 7260 adapter. It costs just $5 more, and it delivers 802.11ac speed as well as Bluetooth connectivity).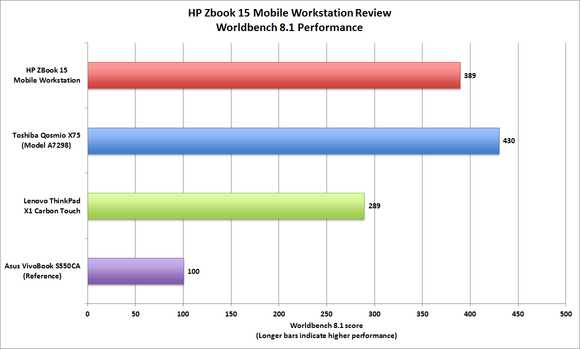 Toshiba's Qosmio X75 desktop replacement laptop is a little faster than the HP's ZBook 15, but that machine has a consumer-oriented CPU and GPU. Click on graph to enlarge.
Our eval unit came with a 500GB, 7200 rpm hard drive augmented by a 32GB mSATA SSD cache. Slide open a pair of friction locks and you can remove the ZBook 15's bottom panel to access and upgrade it memory, storage, and wireless modules. The battery which is also removable, lasted 5 hours and 23 minutes in our run-down test. That's a good long while considering all the silicon its powering.