HP Pavilion x360 11T review: An IPS display and zippy storage for under $500
The HP Pavilion x360 11T isn't a performance wunderkind, but it has the look and feel of a much more expensive laptop thanks to fantastic craftsmanship, an IPS display, and SSD storage.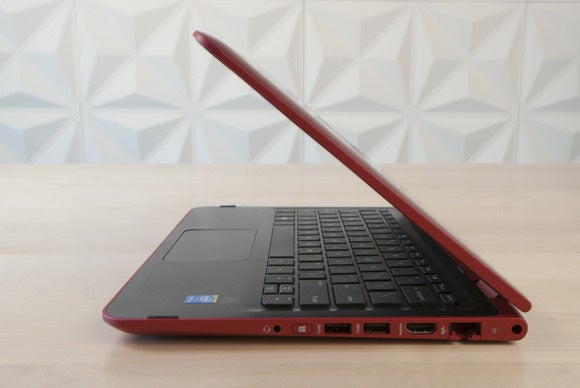 Listen, I'll say right off the bat: I don't think any person in the history of ever has picked up one of HP's Pavilion x360 models and thought "I can't wait to use this thing as a tablet." Sure, HP sells them on that notion, the same as Lenovo with its Yoga line. But there's no getting around the simple fact this thing is a terrible tablet. It's oversized, it's heavy, and it's cumbersome--as a tablet.
As a laptop, though? The HP Pavilion x360 11T Touch Select (phew, say that five times fast) is a damn good compromise between portability and performance. Keep that hinge firmly clamshelled and you'll be golden.
The design
When you're only spending $500 on a laptop, the last thing you want is a laptop that looks like it only cost $500. Let's give it up for HP then--the Pavilion x360 is sleek. The model HP sent us for review was a gorgeous cherry matte color (black interior), and the "Hewlett-Packard" stenciled underneath the screen is a classy touch. I'd say it's a toss-up between this, HP's other machine (the 15t Touch), and the Dell Inspiron 5000 Series for most attractive. They're both phenomenal looking compared to the competition.
I should clarify, again: Phenomenal looking for a laptop. As I mentioned, the Pavilion x360 is one of those "ultra-flexible" laptops where you can bend the hinges around 360-degrees and turn it into a "tablet."
It looks ridiculous, not least because the Pavilion x360 has a massive bezel. This is one of the least tablet-y tablets I've ever seen, bulky like a football player trying to fit into a tutu. You might as well call a Lite-Brite a tablet at that point. So let's pretend that mode doesn't even exist and just review this as a laptop, shall we?
The one upside of the "tablet " mode is that the Pavilion x360 comes fully equipped with an 11.6-inch, 1366x768 IPS touchscreen. It's one of only two laptops we looked at with an IPS display, and it makes a huge difference compared to the shoddy TN panels most machines come equipped with at this tier. The touchscreen aspect is a decent bonus, if you're one of those people that doesn't mind smearing fingerprints all over the screen.
I'll also give some credit to the large bezel. While it looks somewhat ridiculous and chunky, it did allow HP to put a full laptop-sized keyboard into the 11.6-inch Pavilion x360. The difference is immediately apparent if you compare it side-by-side with the half-sized keys of the Acer Aspire Switch 10. The keys aren't half-bad either, although the travel is shorter than I'd like for lengthy bouts of typing.