How to turn a Chromebox into a video-streaming workhorse
A Chrome OS desktop computer can be a powerful tool in a cord cutter's arsenal, serving up the full Web for under US$200. But it does take some finagling, and won't be for everyone.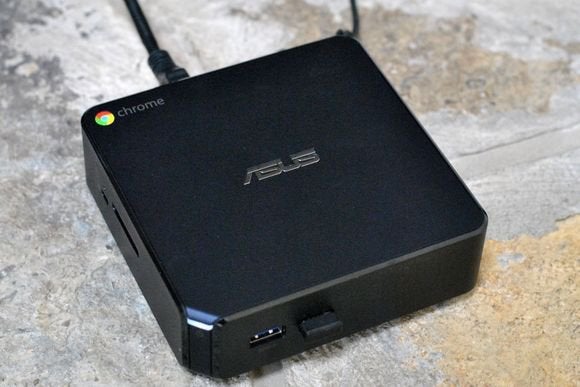 If you're shopping for a media-streaming box for your living room, you should include a Chromebox on your list of contenders in addition to the usual suspects (Roku, Apple TV, Amazon Fire TV, et al).
A Chromebox is a small desktop computer that runs Google's Chrome operating system, and you can use one to access virtually any streaming video service available on the web. They're considerably more flexible than those sub-$100 set-top boxes, but they can't do as much as a Windows-based media PC. On the other hand, they're free from security and update hassles and they're a whole lot cheaper. You can usually find models from HP and Asus on sale for less than their $180 list prices.
Chromeboxes practically beg to have their HDMI ports connected to televisions, so I asked Asus to loan me one for testing. (The company sent a much pricier Intel Core i3 model, but the cheaper Celeron-based Chromeboxes should suffice for basic media streaming.) The Chromebox quickly became a powerful tool in my media-streaming arsenal, going places that other set-top boxes can't. But it took some work to whip it into TV-friendly shape. Here's what I did.
Finessing the Chromebox
Setting up a Chromebox is easy if you already have a Google account and use the Chrome browser on other devices. Just plug in your username and password, and the Chromebox syncs all your bookmarks and apps automatically. You could even use another computer to assemble a list of bookmarked streaming sites.
After setup, I ran into a problem that I'd fully expected: My Sharp TV was cropping out the edges of the desktop, so I could barely see the row of icons on the bottom of the screen. A lot of TVs do this for any device you plug in, but most set-top boxes and consoles build an alignment tool into the setup process. Fortunately, Chrome OS hides a similar "TV alignment" tool under Settings > Device > Display settings, letting me shrink the screen down to size.
After aligning the display, the layout still needed improvement. Looking at my 40-inch TV from about 12 feet away, all the screen elements--from the the icons and the address bar to the actual Web pages--looked puny. That's because the OS is primarily designed for desktop, not living-room, use. So I went back to the settings menu to consider my options.
Chrome includes two simple ways to scale web content: You can change the size of text alone, or you can set a higher default zoom level so everything looks larger. But these settings don't affect the size of the icons in apps, bookmarks, or the address bar, all of which was too small for my liking.