How to pick between the Samsung Galaxy S 6 and GS6 edge
Samsung's Galaxy S 6 and GS6 smartphones go on sale in the United States early next month. Here's how to tell if the Galaxy S 6 or GS6 edge is right for you.
This week, Samsung and a set of its U.S. wireless carrier partners announced pricing and availability details for its two latest smartphones, the Galaxy S 6 and GS6 edge. The devices will be available starting on April 10. Prices vary by carrier and payment options, and the GS6 edge is more expensive than the GS6.
Both devices are "completely the same on the inside," according to Philip Berne, Samsung's marketing manager of technical media, who I spoke with at a GS6 press event last month in New York. That's not entirely true, the devices have slightly different battery capacities, but the major difference between the GS6 and GS6 edge is on the outside: The Galaxy S6 edge display is curved on both of its sides.
So which GS6 phone is right for you? What do the GS6 edge's curved sides really do? Do the sides change the user experience? Are they just a gimmick to make Samsung's quirky new device look different than the iPhone?
I spent an hour or so with both the Galaxy S 6 and Galaxy S 6 edge a few weeks ago, at the previously mentioned press event, (check out my first impressions here) and Samsung sent me review units this week, so I've had some time to kick their respective tires. If you're considering a GS6 purchase, and you're asking yourself any of these questions, keep reading for some answers.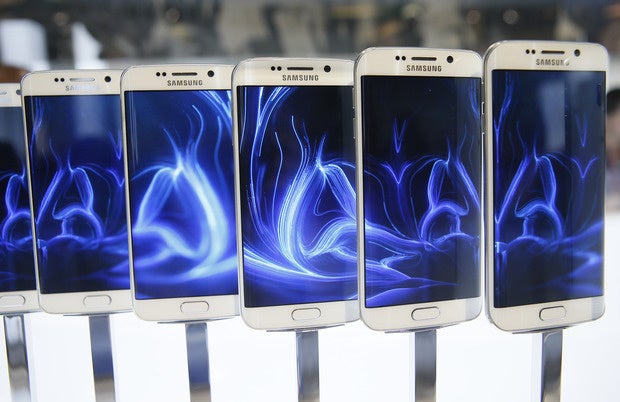 Galaxy S 6 vs. Galaxy S 6 edge: Form over function?
Before getting into the actual functionality, it's worth noting that the curved sides of the GS6 edge add aesthetic value as much as anything else. The GS6 edge is Samsung's best-looking phone ever, and it's quite possible the company's best-looking mobile device. It's distinctive, thanks in no small part to those curved edges.
Appearance isn't everything, of course, but Samsung's goal with the Galaxy S 6 is to create a smartphone that grabs your eye and possibly even serves as a high-tech fashion accessory. If so, the company appears to have succeeded, because the Galaxy S 6 edge is a real looker.
What do the Galaxy S 6 edge's curved sides do?
The Galaxy S 6 edge has two curved sides, but you can use only one of them at a time. In other words, you have to pick one "edge screen position" -- right side or left side -- so while the device's display is curved on both sides, its features work on only one. The idea is that left-handed users can set the "edge screen" to the left and righty users can use the right edge screen.