How to install Windows 10 on your PC
You've read the review, pored through the tips and how-tos, and have waited breathlessly for the day that you can download Windows 10.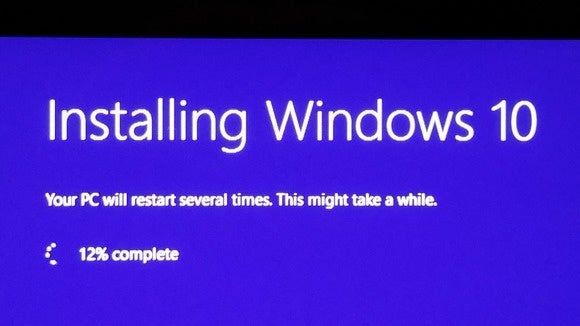 Credit: Mark Hachman
You've read the review, pored through the tips and how-tos, and have waited breathlessly for the day that you can download Windows 10.
So how do you do it, exactly? We've got you covered.
Before you do anything, however, we're going to give your our standard advice: back up your data. Microsoft will give you the option of wiping your files at various stages during the process. Whether you go that route or not, make sure you've backed up key documents and other data to OneDrive, a USB key, or something else--just in case.
There are three primary ways to obtain Windows 10: either buy a new PC with Windows 10 preloaded, buy a license key to Windows 10 online, or upgrade an existing Windows 8.1 or Windows 7 PC. We're going to ignore the first option and focus on the latter two, which we'll consider to be essentially the same scenario.
Let's assume that you're upgrading an older PC, then. If you own a qualifying Windows PC, you had the option of "reserving" a free copy of Windows 10, an offer which will expire a year from now. If you did reserve a copy, chances are that your PC has downloaded a copy of Windows 10 in the background. At some point, Windows 10 will invite you to begin the upgrade process.
That's the simplest option, especially if you don't have any immediate, desperate need to download Windows 10. Let Microsoft push Windows 10 at its leisure, and it will end up in your hands eventually.
But there's a second option, one that's a bit more fun. And that's to download Windows 10 right now.
The new Windows media creation tool shortcut
Traditionally, Windows users would upgrade by inserting an installation CD or DVD into their PC. Over time, users became trained to burn their own .ISO files on their own media. And starting with Windows 8, Microsoft offered the option of restoring a Windows installation from an ISO file stored on a DVD or even on a flash drive. With the new Windows 10 media creation tool, you don't even need to take that step--it creates a bootable flash drive that you don't need to futz with. Just make sure the USB drive's at least 3 GB in size.
On the media creation tool page, select the proper version--check the system settings to double-check whether you're running a 32- or 64-bit OS. Then download and run it. Though simple, the tool has a number of lovely features--including the ability to simply upgrade the PC. Yes, it's true--you don't need the Windows 10 reservation, as the tool will simply jump you to the head of the line. Even better, you can select whether you want Windows 10 Home or Windows 10 Professional, either 32-bit or 64-bit versions, and even the installation language.