How to install Android Marshmallow on your Nexus device
Can't wait to try out Google's next sweet mobile OS treat? Just follow these instructions—as long as you have a Nexus phone or tablet.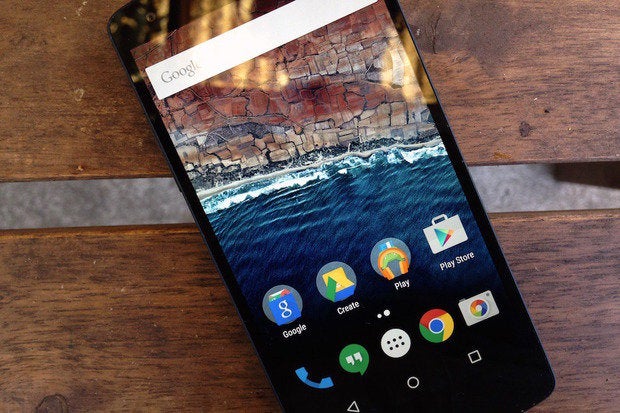 The big 6.0 release of Android, named Marshamllow, will bring a whole host of new features and enhancements. If you have a recent Nexus device, you can download an image from Google and flash your phone to run the OS right now. Or, if you're patient, just wait for the over-the-air update (it should roll out to all Nexus devices within a few weeks of general availability—figure mid-October at the latest).
Installing the Android Marshmallow image takes a little command-line know-how. And as is the case with any pre-release software, you may encounter unforeseen problems, so install Android 6.0 on a secondary device that you don't rely on, or be prepared to risk losing your data.
Getting started
Since installing the Marshmallow factory image will require you to wipe your phone, you'll want to back it up before you begin. You'll also want to update to the newest non-beta version of Android available—Android Lollipop 5.1.1 as of this writing—if you haven't done so already. Updating now may save you headaches later on in this process.
Next, take a few minutes to download and install Google's Android Studio developer tools if you don't already have them installed. The installation process is pretty straightforward, and Google provides step-by-step instructions that explain how to do it. (If you don't have Java installed on your computer, you'll need to download and install that as well.)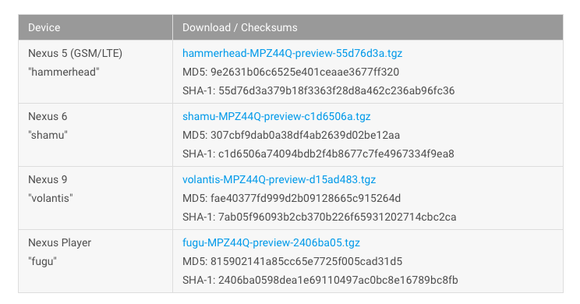 Make sure you get the right version of the Android M preview for your device. Click on image to enlarge.
Once you have the developer tools installed, go ahead and download the Android Marshmallow factory image from Google. Note that Google provides different preview builds for each device, so make sure you get the one made specifically for your device. You can get builds for the Nexus 5, Nexus 6, Nexus 9, and Nexus Player. The 2013 version of the Nexus 7 is supported, too.
Double-click the file you downloaded to unzip the image files. Keep these files in a safe place—we'll come back to them in a few minutes.
Prepping your phone
Installing Marshmallow requires you to turn on Developer Mode on your phone. The process varies slightly depending on the version of Android you're running, but on Android Lollipop, pop open the Settings app, scroll down, then tap About Phone. Scroll down to the Build number and tap it 7 times to unlock the developer options.
Now return to the main Settings screen, then scroll down and tap Developer options. Finally, toggle the switch for USB debugging to the on position and confirm when requested.