How to help millennials shine in the workplace
Millennials already make up a large part of the workforce and in 10 years they are expected to represent the majority of workers. In order to uncover this generation's full potential, businesses need to better understand its traits and work styles.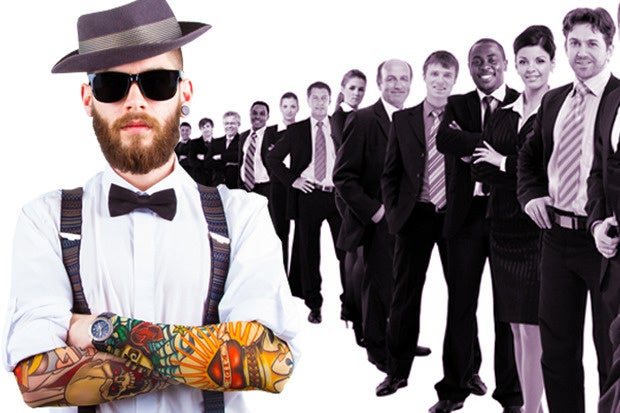 This is the millennial generation's moment in the hot seat. Millennials are often viewed as impatient, tech-obsessed and disloyal to their employers, but while the specifics may be different, each generation has been in this position before: You're new to the workforce, you have new ways of working and businesses can't quite figure out how to deal with you.
"Each generation had a different backdrop," says Gloria Larson, president of Bentley University. Millennials, like every other generation, are "a group that is facing the realities of the decades they grew up in," she says.
So what can companies and universities do to tap into the potential of the millennial generation? Bentley University sought to find out. Along with KRC Research, the university polled 1,031 18- to 34-year-olds to better understand millennials and, more importantly, how to better prepare them for the constantly changing workplace.
High-Stakes Aspirations
Millennials look to their generation's success stories as role models for their career paths. Tech startups have shown digital natives that an entrepreneurial career path is entirely possible.
In fact, 66 percent of respondents would like to start their own business, while 37 percent expressed interest in working for themselves, according to the report. However, only 13 percent said they aspire to be a CEO or company president, suggesting that millennials aren't as interested in climbing the traditional corporate ladder as they are in leading a business they start themselves.
"The accessibility of success is so much greater than it once was," says Chris Davis, manager at consultancy Metis Strategy. "You have access to role models who are outside your own company. You have role models in public, on LinkedIn, and you can see how someone charted their path to success."
While millennials may have a desire to remain loyal to companies throughout their career, the report indicates that job-hopping is still the norm. Just 35 percent of respondents said they plan to stay at their current jobs for 3 to 5 years, while only 16 percent intend to stay there for the rest of their career. Nonetheless, 80 percent of those surveyed still believe they will work for fewer than four companies in their lifetime.
Larson says that unlike previous generations, millennials have no fear when it comes to changing jobs or companies. "If they aren't getting feedback and mentoring, and if they don't feel loyalty from their company, they are more likely than prior generations to change," she says.
While millennials may have the confidence to move on from jobs more quickly, they face other career issues. Thirty-five percent of respondents say that people their age are unprepared for their first job due to a poor work ethic (50 percent) and poor time management skills (47 percent).