How to avoid common PC building mistakes
Check socket compatibility. Organize the screws and cables. Install this before that. And read the manuals!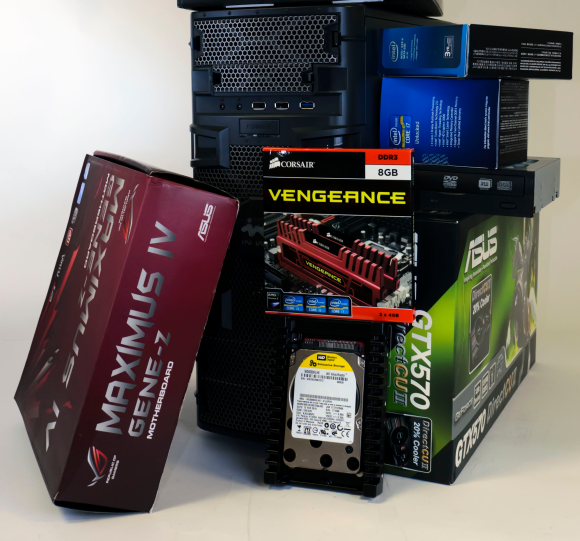 Few things in life are as satisfying as building your own PC. Cobbling together a softly purring, fully functional computer out of disparate parts offers a true sense of creation. Even better, rolling your own results in a cheaper and more personally tailored PC than what you can find at big-box stores.
Building a PC sounds daunting, but it's actually pretty straightforward. Still, a few key details can trip up even seasoned geeks who are not being mindful. This handy-dandy guide can help you avoid the most common PC building mistakes—and their associated frustrations.
Before you buy
Pay attention while you're buying your components, or your DIY PC could wind up borked before you even begin.
Not all PC parts are compatible with one another. The most obvious example is the relationship between processors and motherboards. For instance, Intel's second- and third-generation Sandy Bridge and Ivy Bridge chips need a motherboard compatible with the LGA 1155 socket, while the fourth-gen Haswell chips use LGA 1150 and the enthusiast-focused Extreme Edition processors require pricey socket 2011 motherboards.
You could do your homework—or you could just hit up PCPartPicker.com. This helpful website indexes virtually every PC component you can buy to help you plan out your build, and it informs you of any part incompatibilities. It also points you to the lowest available prices for said components.
Don't get miserly while selecting a power supply, in particular, because it would hurt to spend all your time getting a rig together only to have it wither under the electrical load. Check out PCWorld's guide to picking power supplies for more details, and head to Thermaltake's superb power supply calculator to estimate how much juice your rig will suck down. If you're buying a graphics card that needs to connect to your power supply via one or more six- or eight-pin power connectors, make sure that your chosen PSU has them.
Another common mistake is forgetting all the "little extras." Be sure to buy any additional cabling you might need, such as SATA cables to connect the storage drives and the graphics card to the motherboard. (Check to see which cords come with your motherboard first, though.) Pick up a tube of quality thermal paste—I prefer Antec or Arctic Silver—if you plan to install an aftermarket CPU cooler, because the single-use tubes that come with many CPU coolers are of low quality and limited amount, which can be a problem if you make a mistake while mounting your cooler and need to start over. And did you remember to include a disc drive?