How to AirDrop photos and videos between Macs and iOS devices
The Photos apps for OS X and iOS make it super simple to share photos and videos, even without an Internet connection.
The process for using AirDrop in Photos for Mac is just as easy. Simply select some thumbnails by Shift- or Command-clicking them and then click the Share icon in Photos' toolbar (or the Share icon that appears when you point your cursor to a moment in Photos view). In the resulting menu, click AirDrop.
A message appears in the middle of the Photos window that contains tiny thumbnails of the image(s) you selected along with the icons of nearby AirDrop-enabled devices. If you don't see the icon of your intended recipient, try opening an AirDrop window yourself to jumpstart the process.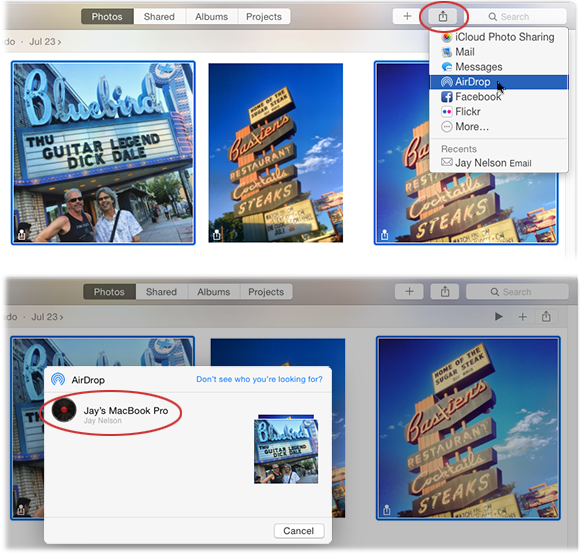 After selecting some images, click the Share icon circled here (top) and you see the AirDrop icons of those nearby (bottom).
While there are other options for using Photos to share pictures and videos—say, shared albums and Family Sharing, AirDrop is a quick and instant way to get it done without Internet access.
Other uses for AirDrop
AirDrop is available anywhere you see a Share icon—in iOS apps, some OS X apps, and in your Mac's Finder. You can use it to share websites in Safari, attachments in Mail (Control-click the attachment and choose Share from the shortcut menu that appears), or any file in your Mac's Finder (open an AirDrop window and then drop the file onto your recipient's icon). You can also AirDrop a location from the Maps app, a contact from the Contacts app, an open document in Preview or other Apple apps, and so on. Until next time, may the creative force be with you all!
Previous Page 1 2 3