How to AirDrop photos and videos between Macs and iOS devices
The Photos apps for OS X and iOS make it super simple to share photos and videos, even without an Internet connection.
To use AirDrop between an iOS device and a Mac, or between two Macs, make sure Bluetooth and Wi-Fi are turned on. Your Mac doesn't need to be connected to a Wi-Fi network—Wi-Fi simply needs to be turned on.
Using Photos for iOS
To AirDrop pictures and videos between iOS devices, fire up Photos for iOS. Find the images in your Camera Roll or in an album, and then tap the Select button at the upper-right. Tap the thumbnails you want to send, and Photos marks them with a checkmark. To deselect an item, tap the thumbnail again.
If you want to send all (or most) of the images in a single moment, you can select them all at once and save some time. First tap the Photos button at the bottom of your screen to enter Photos view, which splits your images into "moments" based on time and location. Then tap the Select button at the upper-right corner of the screen, which makes a smaller Select button to the right of each moment's name and location. Tap that to select every image at once, and then tap any you'd like to deselect, or tap Deselect to deselect the whole moment.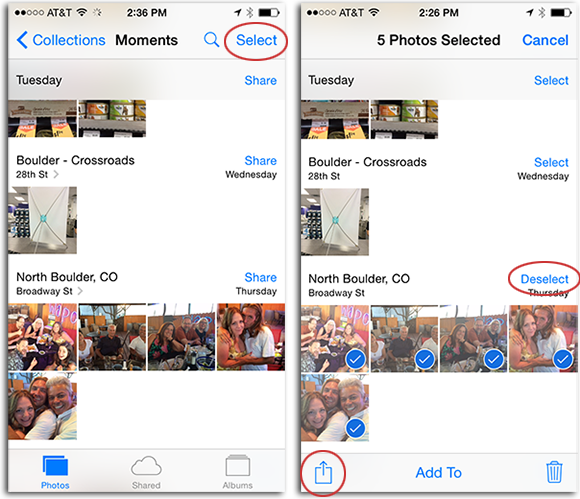 In Photos view, tap Select in the upper-right corner (left). Then tap Select next to a moment (right). Now you're ready to tap Share (right).
Once you've selected some thumbnails, tap the Share icon at the lower-left corner. You'll see several options for sharing, with the icons of nearby AirDrop users at the top. Simply tap the person you want to send the file(s) to. On the recipient's iOS device, a message appears asking them to decline or accept the transfer—tapping Accept adds the files to their Photos library. If, however, you send the file to another device registered with the same iCloud account, Apple assumes you own both devices and the files are transferred without the need for approval.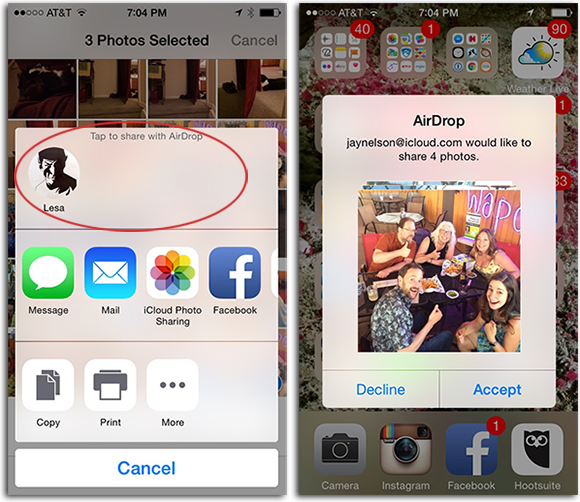 AirDrop-enabled devices show up as icons at the top of share screen (left). If your recipient is on an iOS device, they can choose to Accept or Decline the files (right).
If the recipient is on a Mac, they need to open an AirDrop window in the Finder (choose Go > AirDrop, press Shift-Command-R, or just look for AirDrop in your Finder window's sidebar), or else you won't see their AirDrop icon. In the AirDrop window on the receiving Mac, a message appears that lets them decline, save, or save and open the files. The resulting files land in the Mac's Downloads folder.
Using Photos for Mac