How to add Windows 8's best desktop features to Windows 7
Windows 8 isn't all about the live tiles and gesture control. The new OS is filled with nuts-and-bolts improvements, and you can get them all in Windows 7 with a little work.
Integrated antivirus protection
Microsoft finally took some responsibility for security in Windows 8 and bundled an antivirus program dubbed Windows Defender with the operating system. Despite the different name, however, Windows Defender is basically the default Windows Firewall paired with Microsoft Security Essentials, which is freely available as a Windows 7 download.
MSE sports the same interface as Windows Defender, but it also delivers the same solid yet unspectacular virus protection. Why not check out the antivirus field and explore your options if you have to download a program anyway?
What about the performance improvements?
Windows 8 boots much, much faster than Windows 7 does. Seriously. It's like greased lightning. Microsoft achieved this by putting Windows 8 in a sort of hybrid state where the base kernel session is actually hibernating, as opposed to undergoing a full shutdown.
So, if you want Windows 7 to boot up faster, just use your computer's hibernation option rather than turning it off all the way. Better yet, leave it in sleep mode when you're not using it--sleep mode uses only a small amount of power, and your computer will resume in a second or two when you're ready to use it.
What, that's still not fast enough for you? Buy a solid-state drive. Since upgrade copies of Windows 8 cost $120 for the base version all the way up to $200 for Windows 8 Pro, it's possible to upgrade your computer to a blazing-fast SSD for less than you'd pay for a copy of Windows 8. SSDs offer tremendous performance improvements over platters of spinning rust (aka mechanical hard drives) in transfer times, access times, and operating system startup times alike.
It's not as if Windows 8 is much faster in real-world use, anyway. You may see some battery-life improvements, and the desktop may feel a tad snappier--when the Start screen isn't swallowing it whole and getting in the way, that is--but benchmarks have shown that PC games play at about the same speed on Windows 7 and Windows 8 .
Windows 8 may be a bit less RAM-dependent than Windows 7, but if you run into RAM problems, you should just buy some more RAM. Memory is dirt cheap these days, and a heck of a lot cheaper than Windows 8. You can get 8GB of RAM, which is more than enough for the average PC user, for less than $50 online. A standard 4GB kit costs right around $30.
Imitation is the sincerest form of flattery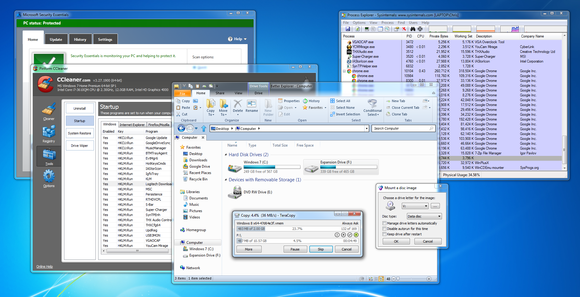 And with that, your Windows 7 PC now has many of the vaunted nuts-and-bolts improvements introduced in Windows 8, only without all the glittering live tiles. If you're in the mood for continued tinkering, check out PCWorld's How to Get Windows 8 Features Now, which details programs that can mirror some of Windows 8's aesthetic changes, such as improved multimonitor support and the aforementioned live tiles.
Previous Page 1 2 3