How to add Windows 8's best desktop features to Windows 7
Windows 8 isn't all about the live tiles and gesture control. The new OS is filled with nuts-and-bolts improvements, and you can get them all in Windows 7 with a little work.
The new File Explorer even allows you to mount ISO disc-image files by double-clicking them, an awesome feature that eliminates the need for third-party ISO-mounting software.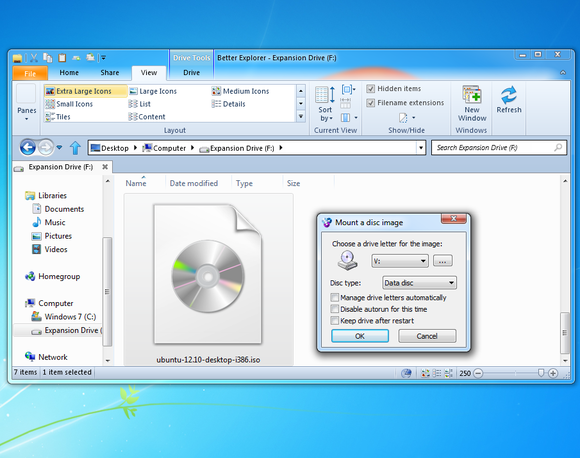 If you want to spiff up Windows 7's Windows Explorer with a Ribbon and an Up button, your best option is Better Explorer. This utility actually packs in more functionality than Windows 8's File Explorer does, thanks to its ability to display multiple open folders in tabs at the top of the window. This makes wrangling files a breeze compared to Windows' usual multiwindow madness.
Interested? Just pin Better Explorer to your taskbar, and then forget that Windows 7's default Windows Explorer even exists. To use TeraCopy with Better Explorer, you'll need to go into Better Explorer's options and enable the Allow third-party file operation replacements checkbox on the Shell screen.
Install WinCDEmu if you want to mimic Windows 8's ISO-mounting ways. It's a dead-simple program that allows you to mount ISO files and other types of disc images easily just by double-clicking them. You'll find no faster, easier way to access digital copies of physical discs.
A more powerful task manager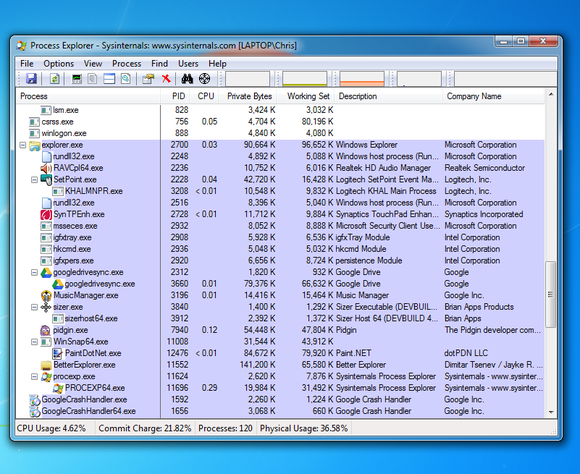 No two ways about it: Windows 8's task manager is awesome. It's the most powerful task manager ever included with Windows, and it comes stuffed with stellar features and enhancements, such as the ability to restart explorer.exe with a single click, a vastly improved performance-monitoring tab, and a tool to manage your startup programs. (Microsoft should have added that last feature to Windows a decade ago.)
You won't find a program that exactly mirrors Windows 8's myriad task manager tweaks. But if you want an advanced task manager packed with powerful features, try Microsoft's own Process Explorer. It's a bit more complicated than Windows 7's task manager, although it's also easier to use in many ways. For example, Process Explorer shows your processes in a tree view so that you can see how they're related to each other. This view comes in handy if you're trying to determine which Google Chrome process launched the 50 other Chrome processes running on your system.
If you prefer Process Explorer after giving it a whirl, you can make it your default task manager by opening its Options menu and selecting Replace Task Manager. Easy!
To manage startup programs, you can turn to the ever-useful CCleaner application--if you read PCWorld how-to articles regularly, you probably already have it installed. You'll find CCleaner's startup manager under Tools > Startup.
If CCleaner isn't enough for you, try Microsoft's own Autoruns tool. It's the most comprehensive way to view and manage programs that automatically start at boot-up. Autoruns is definitely more complicated to use than the default tool built into Windows 8's task manager, but it also shows many more granular entries that CCleaner and Windows 8's task manager don't.