How to add Windows 8's best desktop features to Windows 7
Windows 8 isn't all about the live tiles and gesture control. The new OS is filled with nuts-and-bolts improvements, and you can get them all in Windows 7 with a little work.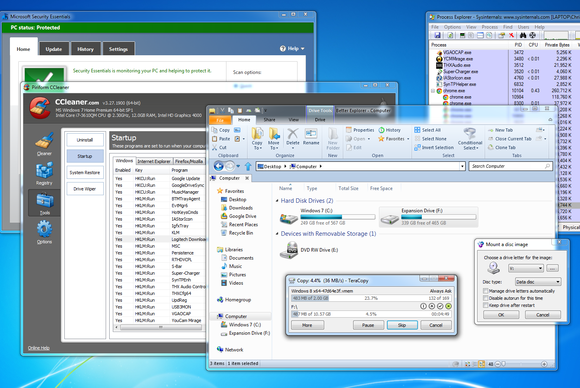 "Windows 8 on a desktop." The very phrase makes some people recoil and instinctively mouse over their Start buttons.
It's too bad that the modern UI has proven so contentious, because aside from the eye candy--or eye cancer, depending on your perspective--an abundance of welcome nuts-and-bolts changes makes Windows 8 the hands-down best version of Windows that Microsoft has ever released.
But don't despair. Although you can tweak and tuck a few things to almost completely banish the interface formerly known as Metro from your Windows 8 life, you can also try another tactic: not upgrading at all. Many of Windows 8's best under-the-hood improvements can be yours in Windows 7 with the help of a few handy-dandy applications.
Having your cake and eating it too has never tasted so sweet.
Improved file copying and moving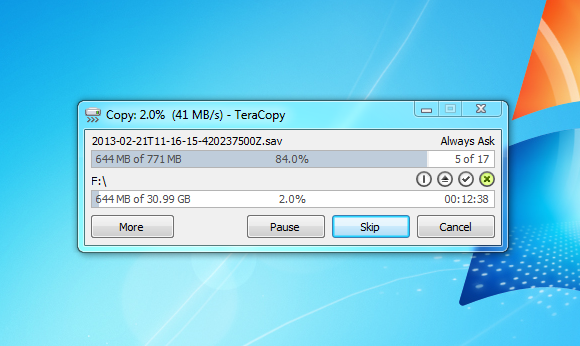 Not to brand myself as a geek, but Windows 8's file-copy dialog box may be its biggest desktop improvement. It brings all copying and moving processes into a single window, tosses in a pause button, deals with file conflicts more intelligently, and is just plain faster than before.
The file copier built into Windows 7 isn't very good by comparison. In fact, while introducing Windows 8's file-copying tweaks, former Windows president Steven Sinofsky wrote that "most people do not have a great tool for high-volume copy jobs," as so few users have a third-party file-copying tool installed on their Windows 7 systems. Yes, the Windows 7 file copier is just that meh.
You can improve file copying and moving without upgrading to Windows 8 by installing the utterly superb TeraCopy. This utility not only speeds up some file transfers, but it also allows you to pause transfers, a tremendously convenient improvement over Windows' default functionality.
That's not the only useful trick up TeraCopy's sleeve, though. Rather than halting transfers completely when an error occurs (as Windows 7 so frustratingly does), the program skips over problematic data and instead displays troubled files for your perusal at the end of a mass data migration. Even better, TeraCopy sports Windows shell integration, allowing you to completely replace Windows Explorer's normal copy, paste, and move functions with TeraCopy's excellent alternatives.
A better Windows Explorer
I get it--five years after its debut in Office 2007, the Ribbon interface is still polarizing. But there's a lot to like about File Explorer, as the Ribbon-ized version of the traditional Windows Explorer interface has been dubbed in Windows 8.
For one thing, the Ribbon provides easier access to less-used functions, such as toggling the display of hidden files. Windows 8's File Explorer also restores the much-loved Up button that Windows Vista and Windows 7 both lack, giving you an easy, one-click way to go up a directory.