How LinkedIn hopes to become a gold mine of customers
Not just job-seekers.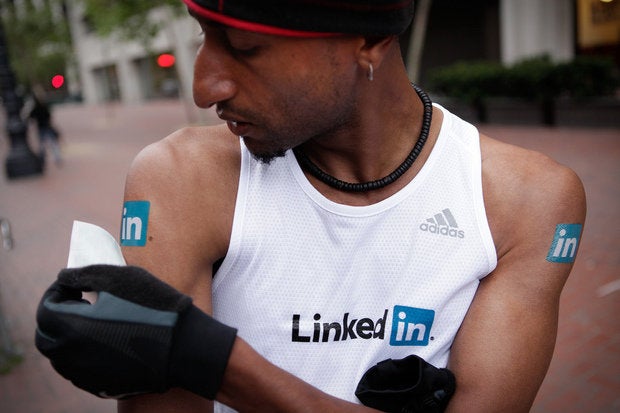 Credit: A Name Like Shields Can Make You Defensive
LinkedIn was started as a social network for job seekers. It's grown into a site where professionals build their networks, making connections that can help in their current positions and that might help in reaching career goals.
Now LinkedIn wants to become something more. In July it announced plans to acquire Bizo, a business-to-business marketing platform. It turns out, LinkedIn thinks it can build a $1 billion business out of B2B marketing, according to a leaked document that Business Insider posted. The document lays out LinkedIn's vision to get into the marketing business, and how Bizo fits into what LinkedIn has already started.
The biggest change will be that LinkedIn plans to do more beyond its own Web site. LinkedIn already has some programs for businesses, like selling sponsored posts in users' LinkedIn feeds. But LinkedIn's programs so far are all centered around the LinkedIn site.
Bizo's platform lets marketers show ads to targeted people on a network of thousands of websites, including business publications. Customers also get tools that let them track their web visitors through a Bizo ad to find out if they buy something or if a certain kind of visitor clicks on certain pages.
The leaked document shows that LinkedIn plans to continue offering the advertising service and will integrate it with its sponsored posts offering, so that businesses will be able to display sponsored posts on LinkedIn to people who have visited their Web site. It will also add mobile advertising capabilities to Bizo, which doesn't already offer that. Plus, LinkedIn business customers will get the better tracking capabilities from Bizo.
"We believe we have unique assets that enable us to build a winning and highly differentiated solution," the document reads. "Specifically, our key differentiators are best-in-class data, quality audience, and context, the professional graph, which powers account-based marketing and sales intelligence, and our publishing platform and media products."
LinkedIn said it had no comment about the document.
On paper, the idea isn't bad. LinkedIn has built a large network -- it claims about 300 million users -- most of whom are business people. When they turn to the site, it's probably with business in mind -- they're not going to LinkedIn to be amused or look at pictures of their friends' kids, as they might with Facebook. With Bizo, LinkedIn can offer businesses a connection to LinkedIn people who have also visited their Web sites.
But LinkedIn will have some work to do to change its image from one that hosts a bunch of job seekers to one that serves up potential customers. Would businesses like Lenovo and Zendesk, who are current Bizo customers, think of LinkedIn as a go-to vendor for B2B marketing? If LinkedIn hadn't made the Bizo acquisition, probably not.