How I spent my Android vacation
Is the grass greener on the other side of the walled garden?
Apps and downs
We hear a lot about Apple's dominance when it comes to apps, but truth be told, the Google Play store is just as well-stocked as the App Store. But while the icons may have been the same, the experiences most certainly were not. I had no complaints with any of the games I played (it was refreshing not to deal with the status bar for a while), but many of my favorite apps—MLB At Bat, Todoist, Mailbox—didn't quite measure up to the standard set by iOS. It's not that they were bad; they just weren't quite as good.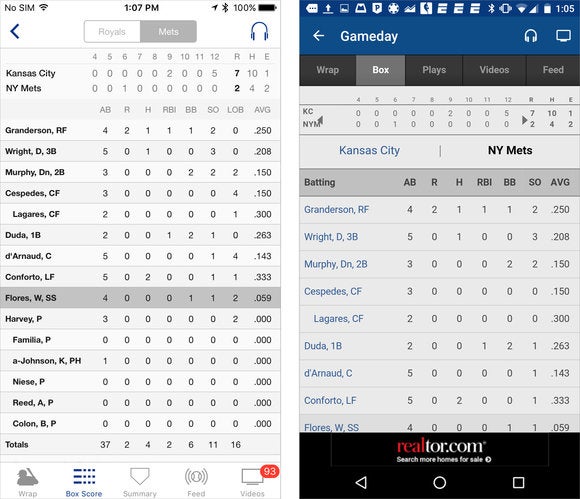 The same apps from the same developers can still feel like afterthoughts. This is MLB At Bat, on iOS on the left, and Android on the right. (Click to enlarge.)
For example, I wrote most of this article in iA Writer. While much of the experience was familiar, there were little annoyances with the Android version, things like the menu bar sporadically sticking around while I typed and wonky swipe gestures. But more glaring was the comparative lack of options: no find-and-replace, no specific settings for Focus Mode, and no word count, just to name a few.
Aside from a bit more crashing than I was used to, many of my app gripes were relatively small issues that could be corrected in future updates, but it just seemed that developers didn't put as much attention into their Android apps as they did the iOS ones. Even At Bat, which has always been one of the best sports apps on iOS, felt like an inferior copy. Interestingly, the best cross-platform experience I had was with Apple Music, which landed midway through my experiment. The interface struck a nice balance between iOS and Android, and aside from a few playback bugs, I was able to download and listen to my entire iTunes library without a hitch.
Reality check
Ultimately it was a collection of little things that brought me back down to earth. Android offers a bevy of excellent features that iOS doesn't—and frankly, probably never will—but it's a matter of what I'm willing to trade off. Android's customization is refreshing, but what iOS lacks in tinkering it makes up for in usability. Every feature Apple implements is seriously considered for the effect it has on the user, an attention I didn't feel with Android.


This status bar drove me crazy.
Neither experience is perfect, and I'd be lying if I said I wasn't going to miss my Nexus 6P at least a little once I swapped my SIM back in my iPhone. But for a long-term relationship, Android just didn't do it for me. It might have been touch-and-go for a while there, but once my crush wore off I was able to see just how dependable and reliable iOS is. And that's better than a pretty face any day.
Previous Page 1 2 3 4