How I spent my Android vacation
Is the grass greener on the other side of the walled garden?
Widget factory
When I started this experiment, I was most interested in widgets. Even more than the app drawer, widgets represent the starkest difference between the iOS and Android home screens, adding a level of personalization that's not possible on my iPhone. I've always been attracted to apps like Morning and Status Board that let me get relevant bits of information, and on my Nexus 7, I immediately cluttered the screen with various time-saving data widgets.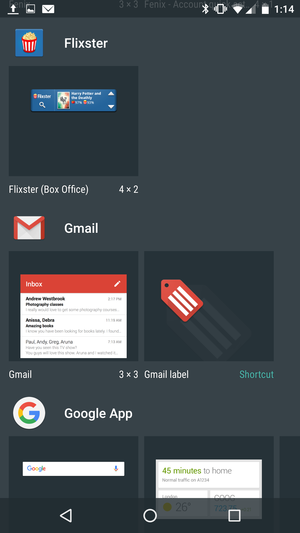 I was excited about widgets at first, but didn't wind up keeping many around.
But the experience wasn't quite so blissful on my phone. The widgets I loved on my tablet didn't quite translate to the smaller screen, and very few of the dozens I installed (and ultimately removed) were things that I wanted to see every time I unlocked my phone. Putting them on different pages helped, but I was surprised to find that I actually preferred Apple's method of hiding them in the Notification Center.
Android's widgets may be visually superior to iOS's (some of them, anyway), but keeping them out of view is smarter. When I want to see stocks or sports scores I know where to find them, but they don't need to be in my face every minute. Android's widgets are more robust, and maybe iOS has an opportunity to use 3D Touch here to leap-frog Android's static home screen elements.
Notification anxiety
But if widgets were a downer, notifications were a downright disappointment. I've always had complaints about Apple's notifications, but I do appreciate how they stay hidden from sight. Android notifications are very much central to the experience, and if it wasn't for writing this piece, I would have turned them all off in a huff.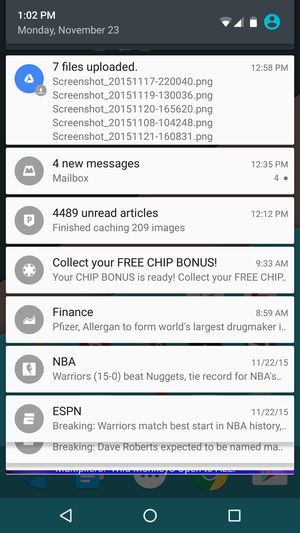 Android's Notification Center was far too needy for my tastes.
Apparently, assigning simple unread makers to apps would be too convenient. Android demands action—it wants you to continually check a series of tiny status bar icons to see your alerts and reminders, a method that couldn't possibly be less intuitive. Old icons stick around until physically acted on, so it's quite difficult to discern which are new. And unless they're directly acted upon, banners stay on the lock screen too, even after repeated unlocking.
The notification center itself is accessed using a familiar pull-down gesture, and I found myself using it far more often than Apple's. It wasn't out of enjoyment—after just a few hours, my status bar got so crowded I angrily swiped down to get to the Clear All button. It's a strange system that definitely succeeded in getting me to pay attention to notifications, but it's kind of like when a child puts away their toys out of fear of being grounded. Notifications needn't be stressful or overwhelming, and with Android they were constantly on my mind.
Previous Page 1 2 3 4 Next Page