How I spent my Android vacation
Is the grass greener on the other side of the walled garden?
So in a fit of exasperation I downloaded a launcher. I was hoping to keep Marshmallow as pristine as possible, but the allure of Nova Launcher (with a little help from TeslaUnread) was too great. A few toggles and taps later and I had restored the little missed, waiting, and unread markers on the apps that needed them.
I've always known Android's biggest advantage over iOS was customization, but using it to solve a problem like this was pure joy. With my iPhone, I've always had to grin and bear any issues and shortcomings I may have. There's always jailbreaking, of course, but that exposes my phone in scary ways and detracts from the overall iOS experience with frequent crashes and bugs. Android let me solve a problem just by spending a few bucks in the Play Store.
New world ordered
Once I had badges in place, I could focus on properly setting up my home screen. Android lends itself to a much different layout, and it's here where I became smitten. I have a lot of apps on my iPhone—863 to be exact. I'm something of a digital hoarder, my iPhone divided into a meticulous system of home screens and folders containing hundreds of apps I rarely use but still need to see, something I've always wished wasn't necessary.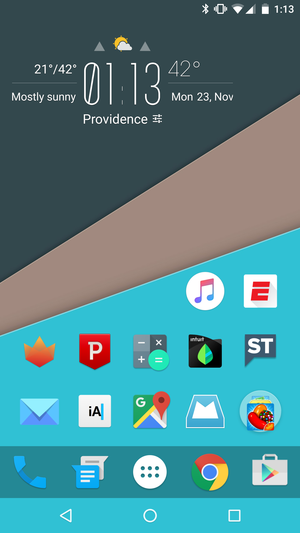 Being able to leave blank spaces on your home screen is welcome after years of iOS's forced grid.
This is where Android truly begins to set itself apart. With every upcoming iOS update I've hoped in vain that Apple allows us to delete the stock apps we don't want, but Android's drawer is such a perfect solution I'm kind of amazed Apple hasn't yet appropriated it under its Mission Control trademark. It's the best of both words: If you enjoy looking at pages of app icons, you can easily set up iOS-style homepages, but your apps can also stay tucked out of view, making Android feel more like a desktop operating system than a mobile one. iOS feels antiquated and downright amateurish by comparison, and I'm never going to look at my iPhone's home screen the same.
I happily tinkered with the layout of my home screen for a few days before settling on a layout that I've stuck with for the rest of my time with the Nexus 6P. I don't feel the need to rotate my apps like I do on my iPhone; my home screen consists of just one home screen with 16 apps, all of which I regularly use. At the top is a solitary weather widget that updates as I travel and provides me with the at-a-glance forecast and conditions I've always craved on my iPhone.
Previous Page 1 2 3 4 Next Page