How hacking fixed the worst video game of all time
'E.T.' is the most reviled game in history, but a group of dedicated fans hacked its ROM, and turned the title around.
A second issue related to general difficulty settings that were too challenging for even the most seasoned gaming pros. Every step would drain your energy, leading E.T. in short order to pass out (and thereby lower your score). For a game based on exploration, the steep penalty for any movement posed a major problem. But thanks to changes in the new game code, you lose energy only when running, falling, or hovering. Simply walking is no longer detrimental to your score.
The Neocomputer.org blog also provides some tips on how to customize the difficulty further. For example you can tweak the rate of energy consumption. Check it out to ratchet up the challenge!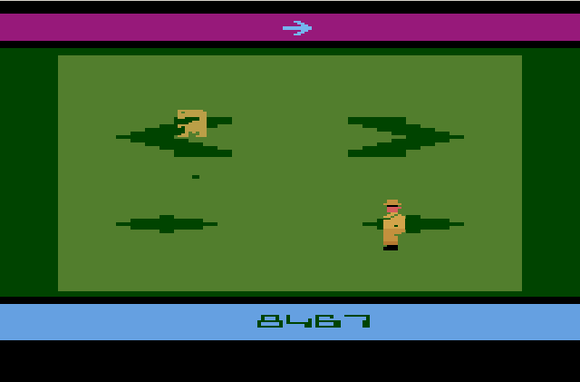 E.T. gets a makeover to be a natural color.
Finally, in the original version of the game, E.T. suffered a strange color alteration. Granted, aliens are often known as "little green men," but in the movie E.T. was distinctly tan. Now, thanks to a few HEX value changes in the new code, E.T. gets as close to his "natural" color as the Atari will let him.
By opening the E.T. ROM file with a hex editor and adjusting key values, the project's coders essentially patched the 30-year-old game. Of course, the contributors didn't change the core gameplay at all, so they recommend that you--unlike your tween predecessors--read the manual or watch a tutorial video so you have a sense of what the heck you're supposed to be doing.
Warshaw commends the fixes and admires the hackers' tenacity in sticking with the project. "They brought a lot of integrity to the project," he says, "I think they did a nice job." He assures PCWorld that if Atari had given him more time back in 1982, he would have made the crucial fixes himself.
You can download the new ROM directly from the Neocomputer projects page and open it using an Atari 2600 emulator such as Stella. E.T. was ahead of its time in 1982--but thanks to some dedicated fans with some technical prowess, you can finally enjoy this gaming classic. Even if it remains the most reviled game in history.
Previous Page 1 2 3