How effective will Gates be in his new tech advisor role?
Microsoft's co-founder hasn't been involved in the company's day-to-day operations since 2008.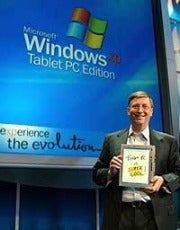 Microsoft made a surprising, intriguing and dramatic announcement on Tuesday: No, it wasn't Satya Nadella's appointment as CEO to replace Steve Ballmer. It was the news that Bill Gates would step down as chairman and take on a new tech advisory role in which he'll substantially increase his involvement with the company he co-founded in 1975.
Nadella, a 22-year Microsoft veteran and successful Ballmer lieutenant, was from the start on that short list of choices that would be logical. The Gates announcement, however, was a bit of a curveball. For the past 14 years, Gates has been gradually and methodically distancing himself from Microsoft.
That process started in 2000, when he handed over the CEO job to Ballmer, remaining as chairman and becoming chief software architect. In 2006, he announced his intention to give up the chief software architect job after a two-year transition and pass on the duties to Craig Mundie and Ray Ozzie, two industry luminaries who were CTOs at Microsoft.
With that transition complete in 2008, Gates stopped working full time at Microsoft and devoted himself to his philanthropic work at the Bill & Melinda Gates Foundation, which he and his wife had founded in 2000.
Gates' decision to distance himself from Microsoft's daily operations sounded firm and permanent.
"Our business and technical leadership has never been stronger, and Microsoft is well-positioned for success in the years ahead. I feel very fortunate to have such great technical leaders like Ray and Craig at the company," Gates said in that 2006 press release.
"This was a hard decision for me," Gates added. "I'm very lucky to have two passions that I feel are so important and so challenging. As I prepare for this change, I firmly believe the road ahead for Microsoft is as bright as ever."
Clearly, some things didn't go as planned. Although Microsoft had a mobile OS and a dominant desktop OS, it missed out on the smartphone and tablet revolution as Apple, Google, Samsung and others rode it to the bank. Although Microsoft had a Web portal and a search engine, Google ran away with the search advertising market and Facebook became the social networking leader. Google managed to carve a space in the cloud email and collaboration market with Google Apps, and Microsoft didn't counter with a comparable option until 2011 with Office 365.
Ozzie left Microsoft at the end of 2010, and Mundie, in the latest company reorganization last July, went from chief software architect to special advisor to the CEO, a role he retains.
So it's intriguing that Gates, who has been fully and happily engaged working at his foundation, is now going to devote a third of his work time to advising Microsoft on products and technology.