How Doze and App Standby finally fixed Android battery life in Marshmallow
Google followed through on its promise to address battery life in Android 6.0.
An app that goes into Standby loses all network access and all its background sync jobs are suspended. These restrictions are temporarily lifted when your phone is plugged in and for a few minutes every day or two. This gives suspended apps a chance to run any pending sync jobs, but they won't be allowed to continue running. A high-priority push notification will also be able to wake an app from Standby for a short time.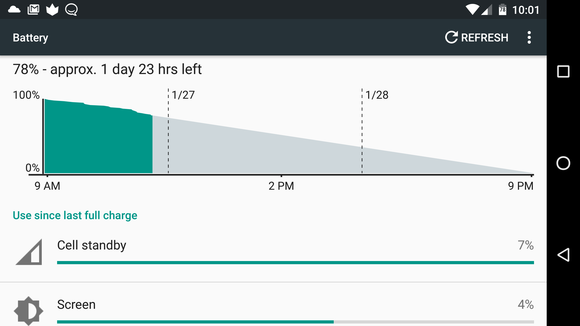 A Marshmallow-powered phone can last a few days longer than it used to, even with plenty of apps installed.
So, it doesn't matter if you install a bunch of junk and forget to remove it. These apps won't be able to clutter up your running processes and wakelock cycle. Google has also noted that it isn't acceptable for apps to fire off notifications simply to remain exempt from App Standby. This sort of behavior can get an app banned from the Play Store.
Taking Control
Both the above systems work on their own when you use a device with Android 6.0 Marshmallow, but you can meddle with things if you like. Doze is accessible in the settings under Battery > Overflow > Battery optimization. Here, you'll see a list of apps that are exempt from Doze, which will probably just be Google Play Services and a few device-specific features. You can't force these into Doze mode, but you can exempt other apps from Doze.
To disable Doze, use the drop-down at the top to switch over to the list of all apps. From there, you can pick any of them to exempt from Doze mode (Don't optimize). You really only want to do this is an app isn't working correctly in Doze. It could affect battery life negatively.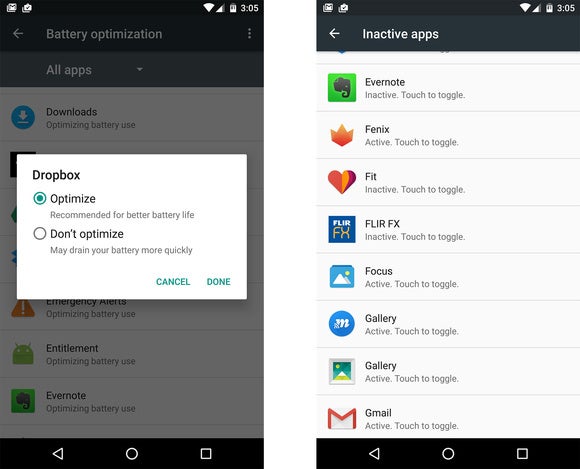 You can change which apps are subject to Doze and Standby in the settings, but you don't need to.
App Standby has the potential to be more fun to play with. This is buried in the developer settings, so make sure you enable that menu, then scroll all the way to the bottom and find "Inactive apps." You should see a mix of active and inactive apps in the list, and you can toggle between the two states by tapping. Remember, apps that are in Standby/inactive will become active again when you use them. This is still a handy way to forcibly keep an app you use only occasionally from running in the background without waiting on the Standby timer.
In general, you shouldn't have to play around with the Doze and Standby settings too much. They work surprisingly well in Marshmallow to finally make your battery life awesome.