How Apple does big phones better than Android
A month with the Nexus 6P showed that perhaps its gorgeous screen is a little too big for its operating system.

Adam Patrick Murray You can't use the fingerprint sensor on the rear if the phone is lying on a table.
Putting the sensor on the back makes it seem more of an afterthought than a key component. The Smart Lock feature certainly helps in this regard, eliminating the need to unlock altogether when I'm at home, work, or in my car. Trusted places were a bit wonky in my experience—the reliance on location instead of Wi-Fi caused occasional issues—but it's a fantastic feature for phones big and small, and it seems especially useful for one this big. I'd be surprised if it didn't pop up as one of the tentpoles of iOS 10.
But it's not just the inconvenience of the sensor that's irksome. Touch ID on the iPhone 6 is simply more natural and central to the experience—in fact, none of the apps I downloaded on Android utilize the API—and whatever the iPhone 7 looks like, Touch ID will be front and center, where it belongs, whether that's inside the home button or under the screen.
Building for big
Evolution may eventually make our thumbs elongated to compensate for the stretching we need to do now, but if portrait is going to remain the default mode for smartphones, one-handed operation is always going to be a thing. But it needn't be about finger aerobics. It's about bringing key parts of the operating system closer to the bottom of the screen where they can be easily reached. Apple didn't increase the size of the iPhone without carefully considering this, but even with a several-year lead, Android doesn't seem to get it.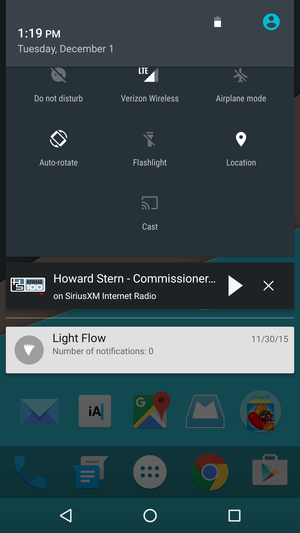 The quick settings menu, while convenient, would be easier to reach on the bottom of the screen.
Like iOS, there's a Control Center-like set of shortcuts and quick actions, but rather than put it within thumb's reach at the bottom of the screen, it's positioned all the way at the top, and you need to swipe through the Notification Center to get to it. And there's no Reachability-style tap or gesture either (at least not without rooting your phone first).
While I was figuring out which grip was best, I encountered another issue. With my iPhone 6, I'm often wrapping my fingers around the edge out of fear of dropping it. Sometimes my fingers or palm encroach over the bezel, but iOS is smart enough to disregard these touches. Holding my 6P the same way results in a flurry of unintended taps and pinches, and when I think an app is lagging or frozen, it's usually the result of too much flesh peeking over the edge.
Previous Page 1 2 3 4 Next Page