How Apple can take on Android from the inside
If you can't beat 'em, join 'em. And then outclass 'em at their own party.
Messages was probably the iPhone app I missed the most. On iOS, I've never considered using another messaging app, but after just a few days with Android, I started browsing my options on Google Play—had Apple's Messages been available, I would have downloaded it in a heartbeat. With an Android version of Messages, Apple could create an network overnight that rivals WhatsApp and establish a colony in enemy territory, all while showing Android users just how much better texting can be.
Watch and learn
Along with Messages, there was another constant reminder that I wasn't in Cupertino anymore: the Apple Watch on my wrist. Even after I swapped my SIM into the Nexus 6P, I still wore it as my everyday watch and fitness tracker, but the distinct lack of notifications made it feel like a brick rather than a luxury timepiece.
It reminded me of the iPod. When that first came out, it was a luxury gadget that was tied to the Mac, and it wasn't until Apple made the surprising move of opening it up to Windows PCs when it truly began to take off. Apple Watch is by no means a failure, but it's not exactly a must-have gadget either, and it's hard to imagine many people switching from Android because they have to have one.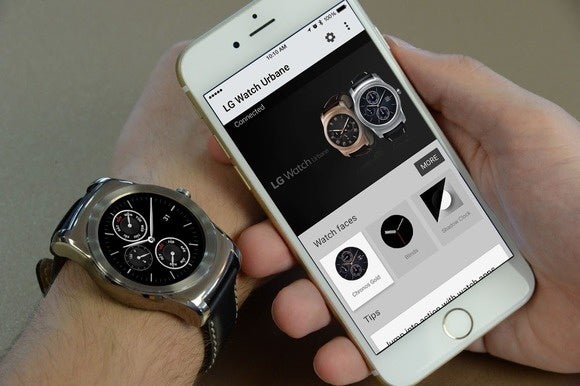 LG We can use Android Wear watches with iPhones, but I'd love to receive notifications from Android on my Apple Watch.
Opening Apple Watch up to Android users—at least as far as basic notifications are concerned—seems like a logical step in the development of Apple Watch. As expected, Google has already brought Android Wear to iOS, but an Android entrance by Apple would be of far greater significance. Eventually, the Apple Watch will be an independent device that doesn't require an iPhone to properly function, so an Android app will only get the ball rolling.
While I was using my Nexus 6P, I would have loved the ability to send its alerts to my Apple Watch. Admittedly, mine is a relatively rare case, but plenty of Android users buy iPads and Macs, and if watchOS is going to be a serious platform, Apple needs to get as many users under its tent as quickly as possible. And much like the iPod boosted Mac sales, I can see a possible halo effect here, with Android users buying an Apple Watch and then switching to an iPhone down the road.
iCloud cover
There's no denying that Google does web services way better than Apple. From email to storage and search, Google has a laser-sharp focus on services that rivals Apple's attention to materials and thinness. Apple has gotten better, but there's still a wide gulf between the two.
Previous Page 1 2 3 4 Next Page