Hold the hovercraft: These technologies are reinventing transportation
Cars are so 20th century.
Alternative Fuels
The age of the electric car is firmly here. In Silicon Valley, electric cars like Nissan's Leaf and the Tesla Model S are a regular sight, thanks in part to generous state incentives. Now similar incentives might be helping usher in the age of hydrogen cars.
These are cousins of electric cars in that they have the same drive train but the electricity to power the car's motor comes from a fuel cell rather than a battery. The fuel cell takes hydrogen from a tank and strips off electrons to produce a flow of electricity. The only byproduct is water, so it's being pushed by automakers as a very clean alternative to gasoline, and because the hydrogen tank can be refilled in just a few minutes, it's much more convenient than electric cars, which might require several hours of charging.
Unfortunately, it's still quite energy-intensive to produce hydrogen in a form suitable for cars, so the entire energy chain isn't as green as it could be.
Car makers have been testing fuel cells for years and Toyota and Honda are now on the verge of commercializing the technology. Toyota's hydrogen fuel cell car, the Mirai, will go on sale this year in California and can travel about 300 miles on a single charge of hydrogen. Refilling the tank takes about five minutes -- much faster than a comparable charge for an electric vehicle.

Toyota's Mirai hydrogen fuel cell vehicle on show at CES 2015 in Las Vegas on January 5, 2015. Credit: Martyn Williams
Filling up on hydrogen is a challenge because only a handful of hydrogen recharging stations exist in the state. But California has committed to building a network of several hundred to support the technology.
Urban Mobility
The final step in future transportation concerns how we get around towns and cities after we've journeyed there by car or train.
Perhaps the most famous idea was the Segway, which launched in 2001 as the future of urban transportation but has found niche applications at best.
That hasn't stopped others from looking at the technology, including Toyota and Honda.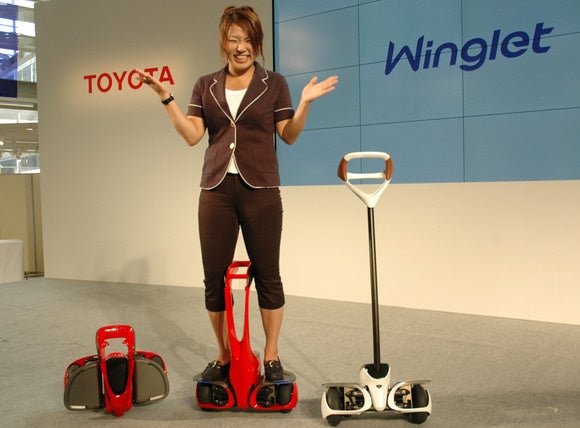 A model demonstrates the Toyota Winglet robotic transporter at a Tokyo news conference on August 1, 2008. Credit: Martyn Williams
The Toyota Winglet prototype is a two-wheeler that the rider stands on, much like the Segway. But it's much smaller and lighter. It has been tested in an airport in Japan, but as yet there are no plans to commercialize it.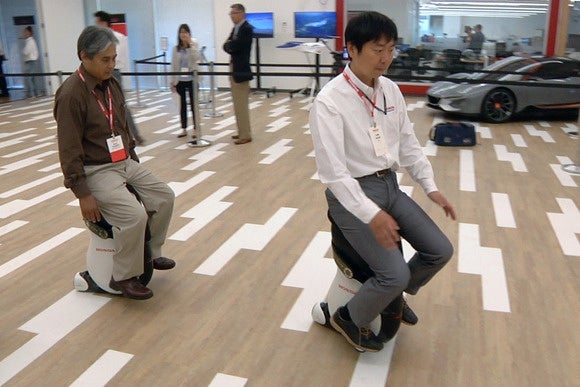 Riders try out Honda's Uni-Cub during an event at the company's Silicon Valley R&D Center in Mountain View on July 23, 2015. Credit: Martyn Williams
Previous Page 1 2 3 4 5 6 Next Page