Hold the hovercraft: These technologies are reinventing transportation
Cars are so 20th century.
And for a tantalizing look at the future of car travel, check out the Mercedes Benz F015, a concept driverless vehicle that was unveiled at this year's Detroit Motor Show.
The interior is covered in touch-panel displays, and the front two seats twist around so that up to four passengers can sit and chat while the car takes care of the mundane job of driving. It's almost universally been described as "space age" and it has that futuristic look to it too. A production F015 is at least a decade or more away.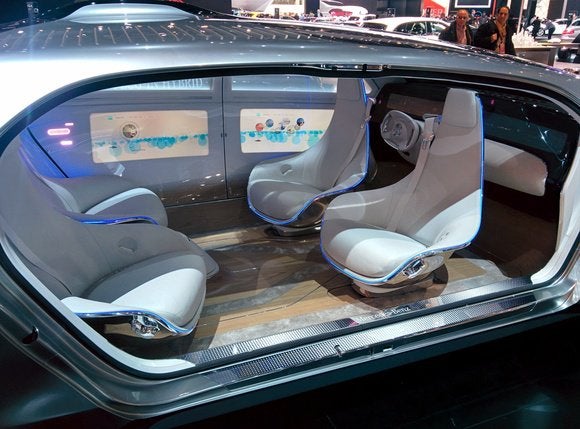 The interior of the Mercedes Benz F015 concept car has seats that face each other because the car will do all the driving, seen here at the North American International Auto Show in Detroit on January 13, 2015. Credit: Martyn Williams
In fact, autonomous technology might come first to the much less sexy world of freight haulage.
Fatigue is a leading cause of trucking accidents, and truck makers see autonomous driving as a way to cut down on accidents and deaths.
Volvo has been studying the idea of road trains as part of a European Union project. The idea is simple: a procession of cars or trucks each automatically follows the one in front as they travel down the highway. The only driver who needs to be paying attention is the one at the head of the procession, as the others will speed up and slow down in time with the lead car.
Such a system is only possible if vehicles can communicate with each other -- something that automakers are working on but for which there is still no standard.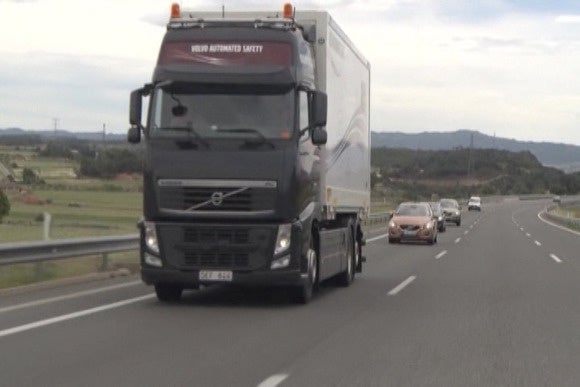 A Volvo truck heads a road train of cars that are following automatically during tests in Sweden in 2012. Credit: Volvo
In the U.S., Daimler recently demonstrated a truck called the Freightliner Inspiration that includes an autopilot mode. For use on highways, it will keep the truck in its lane and a safe distance and speed from other cars, but it's only permitted in Nevada. Regulations of such matters are handled on a state-by-state basis in the U.S.
A recent survey by Boston Consulting Group found 55 percent of 1,510 U.S. consumers questioned thought themselves likely or very likely to at least consider purchasing a partially autonomous car over the next 10 years. But that drops to 44 percent when asked about a fully autonomous car.
One of the most requested features is the ability to take over in heavy traffic. There's perhaps nothing more frustrating than sitting behind the wheel in a traffic jam, inching forward slowly while you wait out the queue.
Previous Page 1 2 3 4 5 6 Next Page