Hold the hovercraft: These technologies are reinventing transportation
Cars are so 20th century.

An artist's image of a proposed Hyperloop test track being designed by Hyperloop Transportation Technologies. Credit: Hyperloop Transportation Technologies
Perhaps the most concrete Hyperloop plan is one funded by Musk himself. While he hasn't committed to building a commercial Hyperloop, Musk does plan to build a test track that will be open to companies and students to test projects based on the technology. Musk hasn't revealed the location, but said in a Tweet that it will most likely be in Texas.
Beyond the technology, there are plenty of other hurdles to overcome.
California has been talking about a high-speed rail line between San Francisco and Los Angeles since the mid-nineties, but a single mile of track still hasn't been laid.
The $68 billion estimated price of the system is controversial in a state that likes to think it's environmentally friendly, but in reality is in love with air travel and cars. State and local politics are just as likely to get in the way of the Hyperloop, especially if it's to snake through the wealthy suburbs of Silicon Valley and Los Angeles.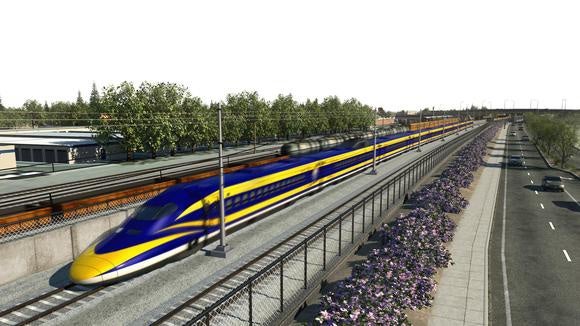 An artist's conceptual rendering of California's High Speed Rail system. Credit: California High Speed Rail
And then there's mother Earth herself. California is one of the most earthquake prone regions in the U.S. and gets many small, localized quakes and occasionally quite large ones. Seismic durability is a hot topic for the proposed high-speed rail link, and the Hyperloop is envisaged to be traveling much faster, so designers will have to come up with a system that can safely bring a pod to a halt in the event of a large earthquake.
Driverless Cars
While the Hyperloop represents Silicon Valley's greatest blue-sky thinking, driverless cars are much closer to reality.
The seeds were sown in 2004 when the Defense Advanced Research Projects Agency (DARPA) set a challenge: complete a 150-mile course in central California without a driver.
As a race, it was a failure. The winner completed just over 7 miles. But it helped kick-start numerous development projects. For example, the roof-mounted laser scanner that's become the most recognizable feature of Google's prototype self-driving cars was first developed for the race.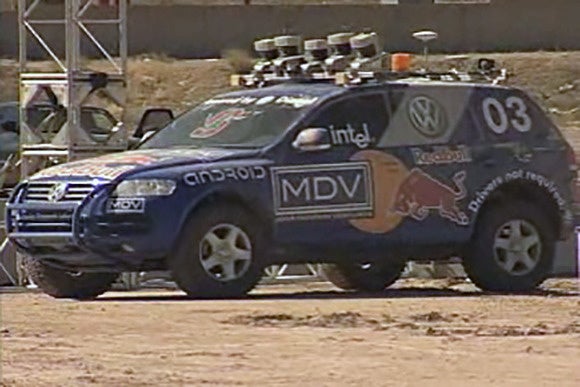 Stanford University's Stanley self-driving car, which won the DARPA Challenge in 2005. Credit: DARPA
Production cars started getting early autonomous features at about the same time. They included the ability to stay in lane or reverse into a parking space, and technology has been progressing since then.
The next big step is expected later this year when Tesla adds an "autopilot" mode to its Model S sedan car. It will initially work on highways, not local streets, and tests appear to be going well.
Previous Page 1 2 3 4 5 6 Next Page